Handheld RFID Reader covers low, high, and UHF frequency.
Press Release Summary: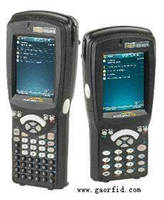 Bluetooth enabled WORKABOUT PRO® is offered in both full and short keypad varieties, with option of either Microsoft Embedded CE 5.0 or Windows Mobile 6 classic operating systems. IP65 rated, dust and water resistant product can withstand drops from 5 ft or shock and vibration consistent with truck/forklift mount. Offering VGA color for crisp, detailed graphics even in direct sunlight, applications include asset and livestock tracking, DSD, field service, warehousing, and manufacturing.
---
Original Press Release:

GAO RFID Offers the WORKABOUT PRO® - A Rugged Handheld Terminal RFID Reader



2009-02-06

Toronto, Canada - GAO RFID Inc. ( www.GAORFID.com) recommends its WORKABOUT PRO® - A Rugged Handheld Terminal RFID Reader. The WORKABOUT PRO® can be considered as the "Swiss Army Knife" of handheld computing. This flexible, handheld computer terminal works with a multitude of technologies and is an ideal choice when configured as an RFID Reader.

Proven successful in a number of applications including Asset Tracking, Livestock Tracking, DSD, field service, Warehousing and Manufacturing to name a few, GAO offers the WORKABOUT PRO®, designed for use as an RFID reader, covering all RF frequencies including low frequency, high frequency, and UHF. GAO also offers several other technology options for the Rugged Handheld Terminal such as barcode readers, WiFi, GPS, GSM/GPRS. Further configuration options include pistol grip, strap, battery choice, and docking station.

Additionally, GAO offers the Bluetooth enabled WORKABOUT PRO® in both full keyboard and short keypad varieties with an option of either Microsoft Embedded CE 5.0 or Windows Mobile 6 classic operating systems. Windows Mobile 6 Pro OS is also available. The inclusion of an SDK brings complete flexibility to meet the specific needs for countless RFID solutions.

The WORKABOUT PRO® is highly durable and rugged and can withstand drops from five feet to polished concrete or shock and vibration consistent with a truck or forklift mount. It is well suited for harsh environments with an IP65 rating making it dust and water resistant. This handheld RFID reader offers full VGA color for crisp, detailed graphics even in direct sunlight.

For further details and a complete list of configuration options and product specifications visit our site at www.GAORFID.com or contact us at sales@gaorfid.com.

About GAO RFID Inc.

GAO RFID Inc. is a leading provider of Radio Frequency Identification (RFID) hardware and solutions to end users worldwide. GAO RFID combines best of breed with low cost RFID readers, RFID tags and enabling-RFID software. We have a wide variety of RFID readers, tags and antennas in all the RFID technologies, Low Frequency (LF), High Frequency (HF), Ultra High Frequency (UHF, Gen 2) as well as Active and Semi-Passive. GAO RFID's products and services are easily customized for use in Asset Tracking, Health care, Supply Chain & Logistics, Event Management, Access Control, Livestock Tracking, Inventory Control & Management, Field Service, Maintenance and Document Authentication.

For more information please visit www.GAORFID.com

GAO RFID Inc. is a member of GAO Group, which also includes:

GAO RFID Inc.: www.GAORFID.com
GAO Tek Inc.: www.GAOTek.com
GAO Research Inc.: www.GAOResearch.com
WowGao Inc.: www.WowGao.com
GAO RFID Asset Tracking Inc.: www.GAORFIDAssetTracking.com
GAO Embedded Inc.: www.GAOEmbedded.com
GAO Instruments Inc.: www.GAOInstruments.com
GAO Comm Inc.: www.GAOComm.com
GAO Fiber Optics Inc.: www.GAOFiberOptics.com

Company Name: GAO RFID Inc.
Phone: 416-292-0038

More from Paints & Coatings