Handheld Power Trowel is used for concrete finishing.
Press Release Summary: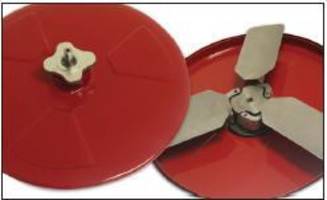 Able to produce high-gloss finish without hand troweling, Concrete Drill Finisher can be used with any corded, cordless, and or variable-speed power drill as well as with extension arm. Portable, noninvasive unit comes with one rotor and 3 adjustable pivoting blades and can finish 350-650 ft²/day. Uses include professional concrete applications such as finishing countertops, edges, and small and large pours requiring troweling in inaccessible areas.
---
Original Press Release:
Materials for Less, Introduces the Most Innovative Tool in Concrete Finishing, the Concrete Drill Finisher
A powerful, portable, performance-driven alternative to hand troweling Palm Desert, CA (June 15, 2007) - Materials For Less, a division of United Brothers Concrete, Inc., is pleased to introduce the Concrete Drill Finisher, a powerful, portable and innovative tool which cuts the cement finishing process by more than 50 percent, leaving behind a professional high gloss finish. "In the concrete business, time is a very important factor. The period between pouring and curing the cement determines the quality of the finished product, expresses Lauro "Lalo" Barcenas, cement mason and CEO of Materials For Less. "Having the necessary cement tools for the job is key." The Concrete Drill Finisher is a portable, handheld power trowel crafted for high quality professional concrete applications. It is ideal for finishing small and large pours requiring troweling in inaccessible areas, countertops and edges. The Concrete Drill Finisher significantly decreases labor costs by its ability to cover more square footage while improving the integrity and quality of the concrete surface top. The Concrete Drill Finisher is a lightweight patented system, designed for use with any corded, cordless and or variable-speed power drill. It may also be used with an extension arm, allowing laborers to cover more square footage of concrete finishing in a day. The machine produces a high gloss, professional finish without the labor-intensive hand troweling. The Concrete Drill Finisher comes equipped with one rotor and three adjustable/pivoting blades. In some cases the Concrete Drill Finisher may finish from 350 to 650 square feet per day depending on job site circumstances. On-the-job testing undertaken by local concrete companies, demonstrated the following advantages of the concrete drill finisher: o Noninvasive, fast and cost-effective portable power tool o Suitable for a wide range of jobs-commercial, industrial and residential jobs o Ideal for use in inaccessible areas: between pipes, steel beams, bolts and corners o Fits standard industry cordless, corded and variable speed controlled drills o Saves time and money About Materials For Less, LLC Materials For Less, L.L.C., headquartered in Southern California, is owned and operated by a seasoned cement mason turned business owner. Still in its infancy, Materials For Less has been in business for less than a year and already boasts international status with several European, Canadian and Latin American distributors. For more information, please call (760) 250-9924 or visit concretematerialsforless.com
More from Laboratory and Research Supplies and Equipment