Handheld Pendant features live or dead man enable switches.
Press Release Summary: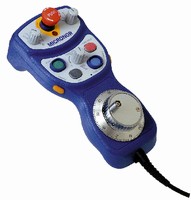 Offering choice of serial or hardwired interface, MR175 Series includes master E-Stop switch, side-mounted left/right enable switches, 2 rotary switches, 4 push buttons, potentiometer, and manual pulse generator. Magnetic pads allow storage directly on equipment panel, eliminating hooks. Pendant Station is suitable as handheld control or programming console for use in motion-oriented tasks such as CNC machines, cranes, assembly lines, process control, and welding robots.
---
Original Press Release:
Micronor Introduces Handheld Pendant With Live or Dead Man Enable Switches
Newbury Park, California, July 28, 2006 - The MR175 series Handheld Pendant Station offers a superb ergonomic form factor, a full complement of controls, and choice of serial or hardwired interface. Magnetic pads allow convenient storage directly on the equipment panel - no clumsy hooks! The unit is ideal as a handheld control or programming console for use in controlling motion-oriented tasks in a broad range of industrial and robotic applications; including CNC machines, cranes, assembly lines, process control, welding robots, and even as a teaching pendant. A fully-populated, standard MR175 includes a master Emergency Stop switch, side-mounted left/right Enable switches, 2 rotary switches (Axis and Resolution), 4 push buttons (labeled Start, Jog, Slide Hold, Tool In/Out), potentiometer (for varying Feed Rate), and manual pulse generator (a.k.a. MPG, manual encoder, hand wheel or click wheel). The pendant is also CE machine safety compliant with the E-Stop and Enable switches brought out as both direct wired connections and computer-readable status. For safety compliance, the MR175 offer two Enable button options - Dead Man (2-position-Off/On) or Live Man (3-position-Off/On/Off). Typical with CNC machine applications, the Dead Man mode provides an ON or closed circuit when the Enable button are fully depressed and releases control when the buttons are released. For robotic applications requiring compliance with UL 1740, the Live Man mode provides an ON or closed circuit when depressed to a mid-point. Fully released or depressed switch (a.k.a. live man panic mode) opens the switch circuit and causes the machine to stop operation. The standard MR175 is labeled for a typical CNC machine or similar control applications, with either RS422/RS484 (MR175-1) or RS232 (MR175-2) serial interface. The unit can also be custom labeled and controls configured for variety of OEM applications as well as choice of serial or hardwired interface. The standard MR175 is $995 each in small quantities; available stock-2 weeks ARO. For OEM applications, unit price ranges $500-900 depending on options and quantities. About Micronor Micronor is a leading supplier of reliable and rugged components for industrial automation and process control industries. Motion control products include encoders, resolvers, rotary limit switches, geared feedback transducers, cam timers, motorized potentiometers, manual pulse generators and ergonomic handheld pendant stations. Micronor was founded in 1968 and has regional headquarters in both the United States and Europe. CONTACT INFORMATION: Dennis Horwitz Vice President, Sales & Marketing Micronor Inc. 3483 Old Conejo Rd, Suite 203 Newbury Park, CA 91320 TEL: (805) 499-0114 FAX: (805) 499-6585 EMAIL:dennis.horwitz@micronor.com www.micronor.com
More from Computer Hardware & Peripherals