Handheld Optical Power Meter for Fiber Optic Networks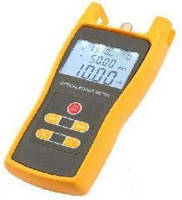 Toronto, Canada - GAO Comm (www.GAOComm.com) is offering its handheld optical power meter for fiber optic networks. It is a compact and easy-to-use test instrument and is suitable for the construction, maintenance of fiber communication and CATV systems.

This handheld optical power meter, model C0260002, features a wide range of power measurement, high accuracy and a self-calibration function. It can be used for absolute optical power measurements as well as relative loss measurements in optical fibers. The optical power meter works at a wavelength range from 800 to 1700 nm with calibrated wavelengths at 850, 980, 1300, 1310, 1490 and 1550 nm. It has a 2.5 mm universal optical adapter that can easily connect to FC, SC and ST connectors. In addition, the meter provides various measurement ranges for different demands including -70 to 3 dBm and -50 to 26 dBm at an accuracy of ± 5%.

This handheld optical power meter also features 10 minutes auto-off and low power consumption. It boasts a maximum continuous operation time of 240 hours with three fully charged 1.5 V alkaline batteries. All these features together with its compact size make it a valuable tool for field technicians.

This handheld optical power meter belongs to GAO's family of Power Meters. This line includes various kinds of handheld optical power meters for construction and maintenance of fiber communications and CATV systems. This line also includes Fiber Optic Multimeter which is specifically designed for technical support personnel to test a variety of instruments with a single meter, Handheld PON Power Meter which is specially designed for the construction and maintenance of PON networks, Handheld Optical Power Multi Meter which integrates an optical source and optical power meter into one device and other similar products.

For sales inquiries please contact:

1-877 585-9555 ext. 601 - Toll Free (USA & Canada)

1-416 292-0038 ext. 601 - All Other Areas

[email protected]

About GAO Comm

GAO Comm Inc. (www.GAOComm.com) is a well-known supplier of optical and electrical equipment and test instruments which are widely used in Telecommunications, CATV, Power industry and for Science and Research.