Handheld Dip Strip Photometer Now Available in Bluetooth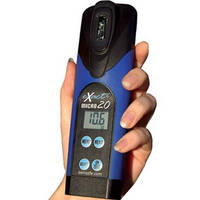 The eXact® Micro 20 dual wavelength photometer uses a patented test procedure for quick and accurate water quality testing results.



Rock Hill, SC – The eXact® Micro 20 dual wavelength photometer is the ultimate water quality tester delivering design and engineering with the latest patented technologies to deliver sustainable water testing solutions that cost less. The eXact® Micro 20 is waterproof (IP-67) and quickly does on-site testing for over 35 direct read water quality parameters without lookup tables, counting drops or matching colors. It features a narrow band wavelength filter for optimal accuracy, long-life LEDs, and a built-in cell for ultra-performance. Each parameter stores the 20 previous results for a total of over 600.



The eXact photometers BlueTooth outperforms other photometer chemical methodologies that use liquid, tablet and powder pillow by ruling out person-to-person variability in techniques. Whenever your test method requires more steps to get to results then you can expect increased error in results. The Patented eXact Methodology uses fewer steps which limits source of errors in results. With the new Bluetooth capabilities the eXact® Micro 20 dual wavelength photometer transfers data effortlessly between the photometer and a smart phone.



This high quality unit self calibrates (no returning it to the manufacturer) and automatically selects the optimal wavelength (525 nm or 638 nm) for each parameter. The meter uses our patented EZ-3™ Reagent Delivery Method for streamlined testing. Simply push a button and dip an eXact® Strip into the build in sample cell for 20 seconds (liberating the reagents), discard the strip and read the results! It provides smooth and precise reagent dispersion into samples without leaving suspended solids that adversely affects test results. Compliance with USEPA levels for Free/Total Chlorine and Chlorine Dioxide testing attests to the meter's quality.



The eXact Micro 20 dual wavelength photometer is available in three portable kits packed a sturdy case with eXact® Strip reagents. It's the preferred tool for accurately and quickly testing water quality. Try it now risk free with our industry leading 30-day money back guarantee.



About ITS:

ITS is an American manufacturer of tests strips, kits and instrumentation that have revolutionized global water testing. ITS has developed over 100 tests and proprietary chemistries many covered  by our U.S. and World-wide patents and USEPAapproved, compliant and verified tests. We pride ourselves in developing tests that make complex chemistry simple and environmentally friendly. Our cutting edge products are unique in the marketplace saving customers valuable time and money.



More from Electronic Components & Devices