Hand Tools target pipe working professionals.
Press Release Summary: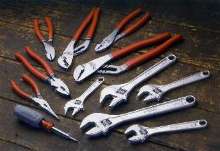 Premium Hand Tool Line includes 7 sizes of standard adjustable wrenches; 3 sizes of plumber's wide mouth adjustable wrenches; 5 sizes of tongue and groove pliers; 6-in-1 screwdriver; and one each of slip joint pliers, wide jaw pliers, linesman pliers, and long nose pliers. Ten in. tongue and groove pliers feature 8 arcs for use on large fittings and connections. Screwdriver, which also works as 5/16 or ¼ in. nut driver, includes 2 slotted and 2 Phillips tips.
---
Original Press Release:

Ridge Tool Introduces New Line of RIDGID® Premium Hand Tools for the Pipe Working Professional


ELYRIA, OH - July 2004 - Ridge Tool Company has introduced a new line of premium hand tools designed specifically for the pipe working professional. The high quality hand tools are competitively priced and come in a selection of sizes and styles.

The new line includes: seven sizes of standard adjustable wrenches; three sizes of plumber's wide mouth adjustable wrenches; five sizes of tongue and groove pliers; one each of slip joint pliers, wide jaw pliers, linesman pliers, long nose pliers, and a 6-in-1 screwdriver.

The line's tongue and groove pliers feature a unique geometry that increases bite and grip to prevent slippage. More specifically, the 10" model has eight arcs versus the normal five that are found in competitive pliers, which provides extra capacity that allows for use on larger fittings and connections. The plumber's wide mouth adjustable wrenches open wider than traditional adjustable wrenches with the same length of handle. The compact handle, combined with a sleek jaw profile, makes tight-quarter access much easier, especially when working under sinks or other constricted areas. The 6-in-1 screwdriver, which also works as a 5/16" or 1/4" nut driver, features two slotted tips and two Phillips tips. In addition, redesigned handle geometry is more comfortable to the hand and maximizes leverage.

All of the new hand tools are manufactured in the U.S. of the highest quality materials, forged for maximum strength, and feature hardened teeth and cutting edges.

Ridge Tool is showcasing the entire line with new wall displays and brochures. In addition, unique counter displays for the screwdrivers and select wrenches and pliers will be available to highlight all the features and benefits of the premium new offering.

Like all RIDGID products, the hand tools are built to provide years of trouble-free service and are backed by a full lifetime warranty against defects in material and workmanship.

Ridge Tool Company, a leading manufacturer of hand and power tools, markets its products in more than 130 countries. The company's broad offering includes threading and drain cleaning machines, and more than 300 types of tools serving the rental, plumbing, HVAC/R, industrial, electrical, petroleum, institutional, commercial and hardware markets. Ridge Tool is a subsidiary St. Louis, Missouri-based Emerson.

For additional information on the RIDGID line of premium hand tools, please contact Ridge Tool Company, 400 Clark Street, Elyria, OH 44036 U.S.A. Or, call toll free: 1-800-769-7743. Visit: www.ridgid.com

More from Computer Hardware & Peripherals