Hand-Powered Refacing Tool refaces flange surfaces on 1-4 in. pipes.
Press Release Summary: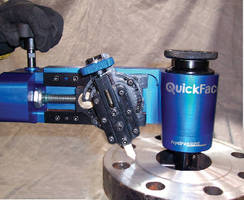 Suited for use on hard-to-reach pipe flanges whose integrity must be maintained, QuickFace has self-centering design with adjustable collets and clamps that provides concentric operation and accuracy. Portable tool weighs 15 lb and uses ½ in. cutting tools. Interchangeable lead screws make it suitable for resurfacing damaged raised-face and lens-ring joint flanges to varying finish standards. Rotated by hand, tool employs worm-gear mechanism that provides spiral gramophone finish.
---
Original Press Release:
Hydratight Harnesses Elbow Power
Hydratight brings high-tech, cost-effective design to a remarkable refacing tool for hard to reach pipe flanges whose integrity must be maintained. The ultra-light, ultra-portable QuickFace is a new HAND-POWERED refacing tool that retains the accuracy and performance of the bigger air- and electrically-powered cousins in Hydratight's extensive range. Supremely portable, QuickFace turns a two-man operation with heavy equipment, compressors or portable generators into a one-man job that can be undertaken anywhere a technician can physically reach - whether at the top of a refinery installation or miles from the nearest power supply. The QuickFace tool weighs only 6.8kg (15lbs) -- and in its storage case with interchangeable collets and lead screws is a mere 15kg (33lbs), despite which it can reface flange surfaces on pipes from 1in-4in with ease, using standard half-inch cutting tools. "Many flanges have to be refaced in-situ without readily-available power, because the flange is difficult or inaccessible. Sometimes such a repair simply isn't cost-effective - and that means taking a gamble on future integrity," said Hydratight global support engineer, Alan Jones. "About 90 per cent of all flanged joint leaks are on pipes in the 1" - 4" range - exactly what QuickFace is designed for. Many leaks are caused by poor joint-surface finish. Correcting this usually involves finding a resurfacing machine and competent technicians - and having the time to complete the job. "QuickFace is small enough to be a permanent addition to any technical equipment store. The alternative may be transporting teams and equipment by helicopter and running generators or compressors - all at much greater expense, where they are available at all." Hydratight engineers have pared weight but not features: the system has interchangeable lead screws that make it suitable for resurfacing damaged raised-face and lens-ring joint flanges to the varying standards of finish demanded of standard and compact flange designs. QuickFace operation couldn't be easier: after selecting the correct sized collets and lead screw for the operation, the tool body is inserted in the pipe end, centring itself with adjustable collets and clamps to provide truly concentric operation and accuracy. The tool arm is then rotated by hand, a worm-gear mechanism providing a perfect spiral "gramophone" finish. The tool can be adjusted with a calibrated slide to define cut-depth and the correct finish. "Having QuickFace on site removes the need to gamble on the quality of a joint's surface finish," said Alan. "A tradesman on site can do the job in the same time as a team using traditional tools - and produce a finish well within specification. It's a perfect solution to a genuine problem." For more information about Hydratight's new QuickFace flange-facing tool, email QuickFace@hydratight.com or see it in action at www.hydratight.com.
More from Fasteners & Hardware