Hand-Held Dispensing System accepts nylon cartridges.
Press Release Summary: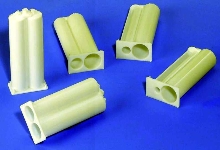 Comprised of manual or pneumatic dispensing gun, cartridge, and static mixer, MIXPAC® systems can use nylon cartridges for 2-component adhesives with chemistries that are incompatible with polypropylene cartridges. Nylon cartridges with 50 ml capacity dispense 2-component adhesives in 1:1, 2:1, 4:1, and 10:1 ratios. They are also available in 200 ml capacity with 1:1 volumetric dispensing ratio as well as 400 ml system with 1:1 and 10:1 volumetric ratios.
---
Original Press Release:

Conprotec Announces Availability of Nylon Cartridges For MIXPAC® Hand-Held Dispensing System


ConProTec, Inc., the leading innovator of two-component adhesive dispensing systems, announces the availability of Nylon cartridges for its MIXPAC® Hand-Held Cartridge Dispensing System for two-component adhesives. These durable cartridges have been designed for use with chemistries that are not compatible with the traditional polypropylene cartridges.

MIXPAC Nylon Cartridge Dispensing Systems, with a 50-ml capacity, are used to dispense two-component adhesives in a variety of ratios including 1:1, 2:1, 4:1 and 10:1. These Nylon cartridges are also available in a 200-ml capacity with a 1:1 volumetric dispensing ratio as well as the 400-ml system with volumetric ratios of 1:1 and 10:1. The MIXPAC System consists of a manual or pneumatic dispensing gun, a cartridge, and a static mixer, all designed to work as an integrated high-performance system.

ConProTec Inc. is an engineering-based company focused on developing the innovative line of MIXPAC hand-held, meter/mix and dispensing products for two-component adhesives and sealants. ConProTec also offers the complete line of STATOMIX® static mixers, which includes plastic disposable mixers, stainless steel and plastic/steel in-line mixers, and luer lock fittings with needles for special applications.

For more information on MIXPAC Hand-Held Adhesive Dispensing Systems and our Nylon cartridges, contact ConProTec Inc., 8 Willow Street, Salem, NH 03079. Call: 603-893-2727 or fax: 603-893-3737. Visit ConProTec on the World Wide Web at mixpacusa.com

More from Electronic Components & Devices