Hall Sensor IC utilizes No-PCB design concept.
Press Release Summary: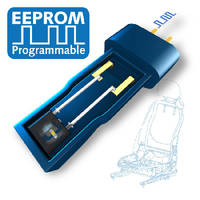 Featuring built-in capacitor, MLX92242 Hall Effect Switch/Latch IC can be implemented directly into design without supplementary board level components. Device integrates Hall sensing element, voltage regulator covering 2.7–24 V, current sink-configured output driver, and EEPROM memory via which end-of-line programming can be executed. Housed in 3-pin TO-92-Flat package, MLX92242 permits 2-wire operation. Unit offers magnetic switching from 1–64 mT and magnetic latching from -64 to 64 mT.
---
Original Press Release:

Highly Integrated EOL Programmable Hall Sensor Supports Direct Connection Into Automotive/Industrial Designs without Need for PCB or Discrete Components



Tessenderlo, Belgium — Melexis Technologies NV has followed up the success of its initial MLX92242 Hall effect switch/latch IC, which offers end-of-line (EOL) programmability and support for 2-wire operation, with a further product introduction. The company now announces a new version of this device which enables easier implementation and saves valuable space.



Strengthening its innovative 'No PCB' design concept, Melexis' MLX92242 has a built-in capacitor - so that the device can be implemented directly into the design without inclusion of supplementary board level components which would increase the overall dimensions and necessitate additional soldering. It achieves all this while still delivering identical performance and functionality to the original MLX92242, as well keeping the standard industry TO-92/UA package form factor, enabling drop-in replacement solutions.



As with the standard MLX92242, a Hall sensing element, a voltage regulator (covering 2.7V to 24V), a current sink-configured output driver and a series of sophisticated IC protection mechanisms (over-voltage, reverse voltage, thermal shutdown, etc.) are all included, plus an EEPROM memory via which EOL programming can be executed. The EEPROM allows suitable magnetic thresholds to be set for the particular application scenario, then subsequently locked. Alternatively pre-programming can be carried out by Melexis to customers' specifications. A magnetic switching range spanning from 1mT to 64mT and a magnetic latching range of -64mT to 64mT is achievable. Also its temperature compensation capacity can counter the effects of magnetic drift.



Key uses for this device (as well as the standard MLX92242) are within the seat track position and seatbelt buckle latch detection systems needed to acquire vehicle occupancy data for maximizing the effectiveness of air bag deployment, as well other applications like electric power steering systems, door release latches and window lifter actuators. There are also broad spectrums of industrial applications for which it can be utilized.



The MLX92242 is housed in a single compact industry standard 3-pin TO-92-Flat package. The pin ordering has been changed so as to facilitate simpler connection. The VDD and GND pins are spaced 2.54mm apart so that they match with legacy fitting configurations while also simplifying assembly directly to leadframes and insert molded connectors. This means that lead forming, which could potentially compromise the device's operation is not necessary



As MLX92242 devices permit 2-wire operation, as opposed to a conventional 3-wire arrangement, while still delivering full diagnostic capabilities, they reduce the quantity of wiring required for implementation. This optimizes them for space-constrained designs. They are highly robust devices, operating across a temperature range extending across -40°C to 150°C and exhibiting strong resilience to electro-static discharge (ESD) strikes, with more than 8kV human body mode ESD compliance.



"Thanks to employment of our proprietary process technology, the die we have fabricated for the MLX92242 devices is significantly smaller than what is possible in other devices on the market," explains Peter Riendeau, Marketing Communications Manager at Melexis. "This means we can integrate an additional capacitor into the design without any need to increase the package size, whereas alternative solutions are simply forced to do just that. As a result the MLX92242 has a definite advantage over the competition."  



The MLX92242 has a $0.56 unit pricing at 10K pieces.



Contact Melexis



Marketing Communications

Peter Riendeau

Melexis Inc

15 Trafalgar Sq., Ste. 100

27333 Meadowbrook Road

Nashua, NH 03063

USA

Tel: 603-204-2900

Fax: 603 578-1270

pre@melexis.com



Sales

Diane Thill

Melexis Inc

Suite 200 Novi MI 48377

USA

Tel: 248-306-5400

Fax: 248-662-2041

DTH@melexis.com



About Melexis

Melexis Microelectronic Integrated Systems N.V. (Euronext Brussels:MELE) imagines, creates and delivers innovative mixed signal integrated circuits. Melexis ICs are driving green solutions that enable our customers to bring more energy efficient automotive systems to market. Melexis product portfolio addresses 4 classes of ICs; Sensor, Optoelectronic, Wireless and Actuators. Sensors include magnetic, MEMS, and sensor interface ICs. Optoelectronic products encompass linear arrays, single point sensors, infrared thermometers and CMOS wide dynamic range and night vision cameras. Wireless ICs focus on RKE, TPMS, ISM band applications, NFC, RFID reader and smart tag solutions. Actuator ICs cover LIN and CAN bus networking ICs and advanced BLDC motor driver technology. Melexis is proud of its participation toward reducing the human race's global environmental footprint.



For more information visit www.melexis.com

More from Architectural & Civil Engineering Products