Position Sensors / Detectors / Transducers
Hall Effect Sensor has 10-million cycle rotational life.
Press Release Summary: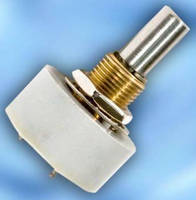 As non-contact, single-turn, Hall Effect position sensor, MagnePot Model 6120 features low mechanical torque with programmable electrical angle from 5°-360°. Three standard configurations are available with 1/8 or ¼ in. shafts and ¼ or 3/8 in. bushings; custom models are also offered. Ranging from linear to non-linear, multiple factory-programmable output profiles are also available. Standard independent linearity is ±0.5%, and operating range is -40 to +125°C.
---
Original Press Release:

BI Technologies Develops Non-Contact Hall Effect Sensor with Life Cycle up to 10 Million Rotations



Sensor offered in multiple output profiles ranging from linear to non-linear...

FULLERTON, CA (September 23, 2009) - Providing design engineers with a high accuracy, high resolution, long life cycle precision device, TT electronics BI Technologies has developed a non-contact single-turn Hall Effect sensor. Designated MagnePot, the Model 6120 Hall Effect position sensor features extremely low mechanical torque with a programmable electrical angle from five to 360 degrees.

"Available in three standard configurations plus custom models, and featuring low noise and a rotational life to 10 million cycles, the MagnePot sensor is a highly versatile device, " said Alain Leon, product marketing manager for BI Technologies. "Coupled with the high accuracy and high resolution of the device, as well as multiple factory-programmable output profiles ranging from linear to non-linear (multi-slope or piece-wise linear), the single-turn Hall Effect sensor is ideally suited for three-wire voltage divider applications."

The MagnePot Hall Effect position sensors are available in three standard styles as well as custom configurations: 1/8" shaft, 1/4" bushing; 1/8" shaft, 3/8" bushing; and 1/4" shaft, 3/8" bushing. Standard independent linearity is ±0.5%, with tighter linearity available on spec units.

Typical output voltage ranges from 0.25Vdc to 4.75Vdc, while input voltage ranges from 4.5Vdc to 5.5Vdc. Minimum insulation resistance is 1,000MW, and operating temperature ranges from -40°C to +125°C. Custom configurations are also available upon request.

Samples are available in 3-4 weeks, and production lead time is 8 weeks.

For more information about BI Technologies' Hall Effect position sensor, contact BI Technologies at 714-447-2345, by fax at 714-388-0046; by mail at 4200 Bonita Place, Fullerton, CA 92835; or visit: www.bitechnologies.com.

BI Technologies has been an innovator and leader in electronic components for more than 50 years. The company is a global manufacturer of trimming and precision potentiometers, position sensors, turns-counting dials, chip resistor arrays, resistor networks, integrated passive networks, transformers, inductors, hybrid microelectronics and custom integration products for communication, computer, automotive and industrial applications. BI Technologies serves a global customer base with manufacturing locations in the United States, Mexico, Scotland, Japan, China and Malaysia.

TT Electronics plc is a global electronics company manufacturing a broad range of advanced electronic components, assemblies and sensor modules for the automotive, industrial, telecommunication, computer and aerospace markets.

More from Computer Hardware & Peripherals