Electrical Sensors / Detectors / Transducers
Hall-effect Current Sensor targets HEV applications.
Press Release Summary: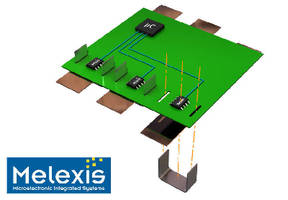 Optimized for very high fields that characterize hybrid and electric vehicle applications, IMC-Hall® MLX91208CAV can handle up to 1,000 A of primary current. AEC-Q100-qualified device employs integrated magnetic concentrator technology to accurately measure current without bulky external ferromagnetic cores. Housed in surface mount SOIC8 package, contactless sensor intrinsically delivers galvanic isolation mandated by high voltage applications, while eliminating additional sources of power loss.
---
Original Press Release:

Melexis Extends IMC-Hall® Advanced Current Sensor Portfolio with High Current Devices Targeted at HEV and Mild Hybrid Deployment



Tessenderlo, Belgium, – Melexis, a global microelectronics engineering company, has added another device to its MLX91208 series of programmable Hall-effect current sensors, with the introduction of an elevated current version. Optimized for the very high fields that characterize hybrid and electric vehicle (HEV) applications, the MLX91208CAV can cope with up to 1000A of primary current. This device complements the existing MLX91208 products which cover low field and high field functions.



Thanks to the proprietary integrated magnetic concentrator (IMC) technology employed, the sensors in the AEC-Q100-qualified MLX91208 series can accurately measure current without the need for inclusion of the bulky external ferromagnetic cores that are required for conventional Hall-effect current sensors. The innovative IMC structure concentrates the magnetic flux and thereby enhances sensor performance.  Melexis' IMC-Hall® devices thus enable significant savings in board real estate and simplify the assembly process as they are housed in compact surface mount standard SOIC8 packages. These sensors also exhibit a high degree of flexibility, with the ability for current data to be measured through adjacent bus bars, wires, or underlying PCB traces, with industry-leading precision and efficiency.



Based on the Hall-effect, the MLX91208CAV provides a fully cost-effective, contactless current sensing mechanism that meets required performance benchmarks. This device intrinsically delivers the galvanic isolation mandated by high voltage applications, while simultaneously eliminating the additional sources of power loss that are found with shunt technology.



"The increasing prevalence of hybrid and electric vehicles has major implications for the automotive sector, with ever greater need for high performance current sensing technology," states Bruno Boury, Product Line Manager for Magnetic Sensing at Melexis. "High current sensing is inevitable, in order to reach the power requirements of HEVs. There is also the emerging mild hybrid segment to take into account, where lower power motors/generators, along with a lower voltage net, dictate high currents. The MLX91208CAV is a well-timed response to these trends - addressing the relatively high expense associated with inverter hardware, which until now has slowed down widespread HEV adoption, by allowing migration to smaller, higher power density inverters."



For more information on the MLX91208 family go to:

http://www.melexis.com/Current-Sensors/IMC-Hall-Current-Sensor-ICs/MLX91208-824.aspx

http://www.melexis.com/FameOfHall



About Melexis

Melexis designs, develops, tests and markets advanced integrated semiconductor products. Our devices meet the world's growing demand for greener and safer cars that are fun to drive, smarter appliances and more conscious buildings. We supply unique sensor and driver chips, communicating with analog, digital, wired or wireless interfaces, enhanced with advanced on board microcontrollers or DSP capabilities. Our core experience is derived from over 25 years supplying leading-edge and innovative ICs to the automotive electronics market, expanding in other application fields such as smart appliances and building automation. Melexis is proud to partner with our customers to engineer the sustainable future.



Melexis' portfolio is built around three pillars: Sensing, Driving and Communicating. Sensors include magnetic, MEMs, and sensor interface ICs; optoelectronic single point and linear array sensors; infrared thermometers, CMOS wide dynamic range, Time of Flight and night vision cameras. Driver ICs cover Advanced DC & BLDC motor controllers and FET Pre-driver ICs. Communication ICs serve RKE, TPMS, ISM band applications, NFC, RFID reader and smart tag solutions.



Contact Melexis

Marketing Communications

Liesbet Stalmans

Melexis

Transportstraat 1.

3980 Tessenderlo

Belgium

Tel: +32 13 670 795

Fax: +32 13 672 134

lst@melexis.com

Related