Half to Full Watt LED Series includes 30 V version.
Press Release Summary: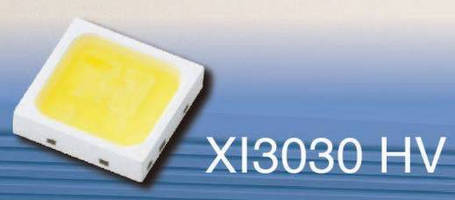 Comprising ½–1 W models, XI3030 High Voltage (HV) LED series helps simplify driver designs by reducing voltage difference between AC input line voltage of completed product and DC input voltage to LED components. Package is lead (Pb)-free, halogen-free, and RoHS compliant. Available in 30 V version (other voltages upon request), LED achieves efficiency of ~120 lm/W at 3000K CCT, 80 Ra min, and 115 lm brightness. It is available either with 7-step ANSI-bin or 3-step central bin.
---
Original Press Release:

EVERLIGHT Offers Higher Voltage, Lower Cost Alternative Option to Its Popular Mid to High Power XI3030 LED Series



Half to full watt LED has 30V version available, other voltages upon request



Shulin, New Taipei City – EVERLIGHT ELECTRONICS CO., LTD. [TSE:2393, a leading player in the global LED and optoelectronics industry, announces the XI3030 High Voltage series, an addition to EVERLIGHT's popular XI3030 mid to high power LED package. By introducing the High Voltage version, a new concept of the existing XI3030 series with higher voltages at a lower price, EVERLIGHT aims at reducing manufacturers' total lamp or fixture costs. The XI3030 HV LED is a half to full watt LED that has a 30V version available, with other voltages upon request.



High Voltage LEDs, when used correctly, simplify driver designs by reducing the voltage difference between the AC input line voltage of the completed product and the DC input voltage to the LED components. This not only reduces the number and cost of driver components needed but improves driver efficiency. Thus producing a more efficient, more cost effective total solution.



The performance level of EVERLIGHT's new high voltage XI3030 HV series meets all application requirements and achieves an efficiency of around 120lm/W at 3000K CCT, 80Ra minimum and 115lm brightness. It is available either with 7-step ANSI-bin or 3-step central bin. Reliability testing has undergone up to 3000 hours internally at EVERLIGHT and LM80 is under process. EVERLIGHT's XI3030 package is Pb-free, halogen-free and RoHS compliant.



In line with EVERLIGHT's campaign of "The Right LED for the Right Application", the XI series High Voltage LED can be used as different cluster configurations in applications such as LED bulbs, LED lamps, LED down lights, and LED flood lights to optimize cost versus performance of each of those applications.



Sampling and technical support: Available now (upon request)

Mass Production: Now



More information or data sheet for this product upon request: Please contact your local EVERLIGHT sales office. Local sales information: www.everlight.com



"The Right LED for the Right Application"

A dedicated application-based marketing approach supports the idea that every application is to be paired with "The Right LED" to provide the best performance and quality. Every package design presents its own advantages in certain applications.



EVERLIGHT is fostering close relationships between their R&D, Sales and Marketing teams to meet and exceed their customers' expectations in both product offering and technology. EVERLIGHT provides a great variety of products and total solutions to customers for their different applications and is incessantly committed to satisfy the strongly growing global market for LED solutions.



About EVERLIGHT Electronics Co. Ltd.

EVERLIGHT Electronics Co., Ltd. was founded in 1983 in Taipei, Taiwan. Playing a critical role in the formation of the global LED industry, the company has rapidly become a leading worldwide supplier due to its dedication to certification, R&D, production, quality, marketing and global customer service. EVERLIGHT provides a comprehensive optoelectronics product portfolio consisting of high power LEDs, lamps, SMD LEDs, LED lighting modules, digital displays, optocouplers and infrared components for various applications. Today, EVERLIGHT is a global company with over 5,600 employees based in China, Hong Kong, Japan, Korea, Singapore, Malaysia, Germany, Sweden, U.S., and Canada.

Please visit us at www.everlight.com



Company contact USA:

Everlight Americas, Inc.

3220 Commander Drive, Suite 100

Carrollton, TX, 75006, USA

Phone: +1 (972) 490 4008

salesmarketing@everlightamericas.com



Company PR contact: pr@everlight.com

Agency contact: Viviane Baltzer, Baltzer Communications

Sedlmayrstr, 25, D-80694 München/Germany

T: +49 (0)89 123.92.993

E-mail: viviane.baltzer@web.de

More from Communication Systems & Equipment