Hacksaw Frame allows cuts in hard-to-reach areas.
Press Release Summary: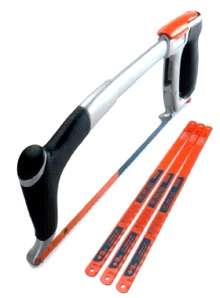 ERGO® Hacksaw Frame provides high blade tension to hold blades in place for straight, accurate cuts. Spring-tensioned blade loader assures that blades are centered firmly inside frame. Setting screw allows for adjustment of blade tension, and secure lever arm locks blade into position. Blades can be installed at 55° angle for flush cutting. Protruding nose helps reach into confined spaces, and rubber-coated thumb grip on front handle relieves pressure on user's hand.
---
Original Press Release:

ERGO® Hacksaw Frame from BAHCO Carves a Niche for Quality, Comfort and Safety


SCRANTON, Pa., Sept. 6, 2002 - The BAHCO ERGO® Hacksaw Frame features high blade tension that holds blades in place for straight, accurate and clean cuts. A spring-tensioned blade loader makes blade changes quick and easy and assures that blades are centered firmly inside the frame. A setting screw allows for easy adjustment of the blade tension and a secure lever arm locks the blade into position. Blades can also be installed at a 55-degree angle for flush cutting.

For professional electricians, the need to saw in confined spaces is an everyday challenge. But with the new ERGO Hacksaw Frame from BAHCO, electricians and professional trades people can achieve precision cuts in hard-to-reach areas without sacrificing quality, comfort or safety.

The hacksaw frame is designed with a protruding nose that helps reach into confined spaces. A rubber-coated thumb grip on the front handle helps relieve pressure on the user's hand and provides stability for jobs that require both hands. The hacksaw frame's elliptical design offers a clear view of the material being cut.

A variety of BAHCO bi-metal hacksaw blades are available for the BAHCO ERGO Hacksaw Frame and are easy to install. Blades come with specific tooth sizes for different sawing applications. For example, there are bi-metal hacksaw blades with 14- or 18- teeth per inch (TPI) for cutting through heavy metals such as aluminum or copper. Slicing through stainless steel or thinner metals can be accomplished using blades with 24- or 32-TPI.

BAHCO's 11-Point Ergonomic Design Program ensures that tools such as the BAHCO ERGO Hacksaw Frame and other tools offer ergonomic features that maximize control and comfort while helping increase productivity. Thus, these premium tools are more comfortable, productive and effective than conventional hand tools when they arrive in the hands of tool users.

BAHCO brand, endorsed by Snap-on Incorporated consists of premium
professional tools, accessories and equipment for electricians,
plumbers, HVAC technicians, maintenance workers, ironworkers, as well as manufacturing and construction contractors. BAHCO products are all designed and manufactured to the highest levels of quality, innovation and comfort for tool users worldwide. Further information about BAHCO products can be found at http://bahco.com/us

More from Packaging Products & Equipment