GWR Level Transmitters suit safety instrumented systems.
Press Release Summary: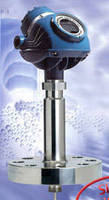 Intended for SIL 2 safety instrumented systems, Rosemount® 5300 Guided Wave Radar (GWR) level transmitters come with required Failure Modes, Effects, and Diagnostic Analysis (FMEDA) report. Latter shows Safe Failure Fraction (SFF) over 90% and SIL 2 suitability. Two-wire GWR technology meets challenging level and interface measurements on liquids, slurries, and solids, while additional features facilitate integration into new/existing control systems.
---
Original Press Release:

Emerson Introduces Rosemount® Guided Wave Radar Level Transmitters for Safety Instrumented Systems



The 5300 series makes it possible to meet safety requirements while maintaining maximum plant availability and reducing lifecycle costs

AUSTIN, TEXAS (August 14, 2009) -- Emerson Process Management announces availability of its Rosemount® 5300 Guided Wave Radar (GWR) level transmitters for SIL 2 safety instrumented systems. Following successful third-party evaluation, the 5300 series now comes with the required Failure Modes, Effects and Diagnostic Analysis (FMEDA) report. As a result, companies in the oil & gas production, refining, petrochemical, chemical and power industries can benefit from the superior performance of Guided Wave Radar (GWR) technology while ensuring compliance with associated IEC industry standards.

The 5300 Series was evaluated, as per hardware assessment IEC 61508, by global organization Exida. The resulting FMEDA report, with Safe Failure Fraction (SFF) over 90%, shows SIL 2 suitability. As per IEC 61508 & IEC 61511 the documentation provides safety instrumentation engineers with the required failure data and with proof test recommendations. With a five-year-plus proof test interval, the proof test can be co-ordinated with plant turnaround, minimizing process interruption and reducing risk to personnel.

The Rosemount® 5300 series is a 2-wire GWR for challenging level and interface measurements on liquids, slurries and solids. It leverages the company's 30 years of proven radar expertise and is designed to improve plant profitability through superior reliability, state-of-the-art safety features, effortless handling and unlimited connectivity.

The Rosemount® 5300 has an enhanced capability to handle disturbing factors, longer measuring range, and lower dielectrics, even with a single probe. Its robust design prevents leakage and performs reliably, especially under extreme process conditions. Heavy-duty probes are available to meet the extreme temperatures and pressure challenges with multiple layer of protection and advanced echo logics for reliable overfill detection.

The 5300 series' 2-wire technology enables fast and inexpensive installation. With user-friendly graphical interfaces and wizards, measure-and-learn functionality, suggestions for application-specific configuration and PlantWeb® digital architecture functionality, the transmitter integrates easily into new or existing control systems. This, in addition to maintenance-free operation and advanced diagnostics, results in a quicker return on investment with overall improved uptime and enhanced safety.

Rosemount transmitters are components of Emerson's smart SIS safety management solution, an extension of the company's PlantWeb® digital plant architecture. Emerson's smart SIS provides an integrated approach to complete safety loops - from sensor to logic solver to final control element. The smart SIS solution enables process manufacturers to implement safer facilities, improve availability, lower life-cycle costs, and simplify regulatory compliance. The smart SIS system components include Rosemount® and Micro Motion® certified and proven-in-use devices, the DeltaV(TM) SIS system, the Fisher certified valves or SIL-PAC final control solution with FIELDVUE DVC6000 SIS, and the AMS® Suite: Intelligent Device Manager.

To learn more about Emerson's smart SIS, go to http://www.EmersonProcess.com/SIS

About Emerson Process Management

Emerson Process Management (www.emersonprocess.com), an Emerson business, is a leader in helping businesses automate their production, processing and distribution in the chemical, oil and gas, refining, pulp and paper, power, water and wastewater treatment, metals and mining, food and beverage, pharmaceutical and other industries. The company combines superior products and technology with industry-specific engineering, consulting, project management and maintenance services. Its brands include PlantWeb®, Rosemount®, Syncade(TM), Fisher®, Micro Motion®, Daniel®, DeltaV(TM), Ovation®, and AMS® Suite.

About Emerson
Emerson (NYSE:EMR), based in St. Louis, Missouri (USA), is a global leader in bringing technology and engineering together to provide innovative solutions to customers through its network power, process management, industrial automation, climate technologies, and appliance and tools businesses. Sales in fiscal 2008 were $24.8 billion and Emerson is ranked 94th on the Fortune 500 list of America's largest companies. For more information, visit www.Emerson.com.

PlantWeb, Rosemount, Syncade, Fisher, Micro Motion, Daniel, DeltaV, Ovation, and AMS are marks owned by one of the Emerson Process Management legal entities. Other marks are property of their respective owners.

Contacts:
Peta Glenister, Emerson Process Management, Rosemount
+44 (0) 1753 756649, Peta.Glenister@Emerson.com

Jerry Moon, Emerson Process Management
1 (512) 832-3089, Jerry.Moon@Emerson.com

More from Machinery & Machining Tools