Guill Presents Reciprocating Head That Eliminates Assembly Operation
Press Release Summary: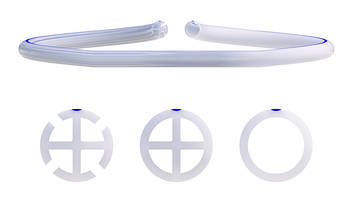 The Reciprocating Head is used as a linear reciprocating assembly for changing the tube's profile within a given length. The product requires one extrusion run for producing a finished product. The unit eliminates the need of an assembly operation and in-process inventory.
---
Original Press Release:
Guill Introduces Reciprocating Head
Automated extrusion process drastically changes the extruded profile
Guill Tool, a global manufacturer of extrusion tooling, has released its new reciprocating head. The traditional tip and die assembly is replaced with a linear reciprocating assembly that changes the tube's profile within a given length. This process is repeated throughout a single extrusion run without interruptions. Cutting capability, in association with the extrusion speed, cuts the finished product to length.
While cost and value stream activities are reduced, quality is improved. Only one extrusion run is needed to produce a finished product, as opposed to multiple extrusion runs with tooling changes along with a manual assembly operation to connect different tubing shapes. Guill's new reciprocating head eliminates an assembly operation. It also eliminates in-process inventory. Thus, there is no need for storage of various tubing shapes and connectors needed for assembly, fulfillment of orders and replenishment of finished goods.
Furthermore, the reciprocating head eliminates a connecting piece, allows JIT production and products made-to-order. Lastly, it reduces total run time from receiving the order to shipping.
For more information, please contact:
Bill Conley, Sales Manager
Guill Tool & Engineering
10 Pike Street
West Warwick, RI 02893
USA
Telephone:  401-828-7600
PR Agency Contact:
Tim Daro
847-934-4500
More from Communication Systems & Equipment