Guideways meet various application challenges.
Press Release Summary: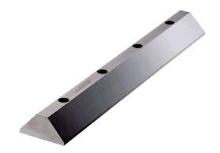 Special Linear Motion Components consist of guideways for special machines, modified standard guideways from single pieces to series volumes, replacement guideways for obsolete machines, and customized solutions. Single rail lengths area available up to 2,000 mm with max width of 150 mm and max height of 50 mm. Rails can be through-hardened and re-ground or inductive-hardened. Coating options for hardness, corrosion resistance, and aesthetics are available.
---
Original Press Release:
New Special Components Line Provides Solutions To Application Challenges

Bedford, MA, November 18, 2004--Schneeberger, Inc. announced the launch of a new line of Specialized Linear Motion Components. Special Components consist of guideways for special machines, modified standard guideways from single pieces to series volumes, replacement guideways for obsolete machines, and customized solutions for challenging applications.

Examples of Schneeberger Special Components include but are not limited to: V Guides, Double V Guides, Guide Racks, Prismatic Guides, Sliding Guides, Profile Rails and Gear Racks. Options such as Air Outlets in specialized rails, cage assist solutions for vertical and high accelerations, and Overload Protection for Recirculating Guides are just a few custom solutions available. Sliding elements are available in a variety of options including crossed-roller, needle and ball cages as well as recirculating units.

Special Components can utilize an extensive range of materials and cross sections (up to AXB: 150x150mm ) and can be cut to required lengths. Single rail lengths are available in up to 2000mm; a max width of 150mm and max height of 50mm are possible. Rails can either be through-hardened and re-ground upon request or inductive-hardened. Many coating options for hardness, corrosion resistance, or aesthetics are also available.

Special Components are available in three quality options, NQ-Normal Quality, SQ-Special Quality, and SSQ-Super Special Quality. Option SQ is used in high demand applications such as optical measuring equipment and has a runout of no more than 5 microns, independent of length. Option SSQ is used for the most stringent requirements, such as fiber optic splicing equipment and has a runout of no more than 2.5 microns over a travel distance of 2000mm.

Schneeberger Inc., one of four subsidiaries of W. Schneeberger AG, headquartered in Switzerland, markets precision linear motion components and systems for demanding applications. Products include ball and cross-roller bearings, miniature slides and rails, profile guides, automated linear and rotary modules, multi-axis positioning systems, and precision ball screws. Based in Bedford, MA, Schneeberger, Inc sells directly through regional sales offices located throughout the US. For more information, contact Schneeberger at 1-800-854-6333 or visit www.schneeberger.com
More from HVAC