Guardair Corporation Introduces the Quiet Force(TM) Nozzle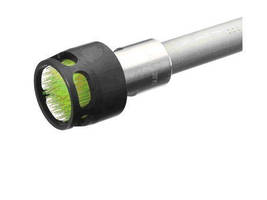 CHICOPEE, MA - November 10, 2008 - Guardair Corporation announces the new Quiet Force(TM) Nozzle. Developed by Boeing engineers the patented Quiet Force(TM) Nozzle delivers high-power at low-noise levels thereby setting a new standard for cleaning with compressed air.

Designed to work on the Guardair FORCE 5(TM) and INFORCER(TM) Safety Air Guns, the Quiet Force(TM) is ideal for noise sensitive industrial cleaning applications. Featuring 7 lbs of thrust and a 20 dBA noise reduction over conventional nozzles, the rugged Quiet Force(TM) incorporates lightweight components and a hardened steel shroud.

The Quiet Force(TM) Nozzle comes pre-mounted on 24''-72'' length extensions.

For over half a century, Guardair has manufactured safety air guns, syphon spray guns, and pneumatic vacuums, and accessories for the industrial MRO (Maintenance, Repair, and Operations) marketplace. Millions of Guardair products are in use in a wide range of industrial and commercial applications including food processing, metalworking, pulp and paper, textiles, transportation, and construction. Guardair developed the world's first safety air gun and during the 1970's worked closely with OSHA to write safety regulations for air gun usage. All Guardair products meet OSHA standards and incorporate unique design features to maximize operator productivity and safety.

In 2004 Guardair acquired certain assets of Nortech Corporation, a leading manufacturer of pneumatic wet/dry vacuums and accessories. In 1999 Guardair acquired certain assets of Allpax Gasket Cutter Products, Inc., the largest US manufacturer of gasket cutters, hollow punch tools and accessories.

Guardair, Air-Spade, Nortech, and Allpax are highly recognized name brands in the industrial MRO marketplace and are synonymous with high quality products and customer service. Their products are sold through a world-wide network of over 2000 industrial and specialty distributors including McMaster-Carr, W.W. Grainger, MSC Industrial, Lab Safety Supply, and Hagemeyer.

For Additional Information Contact:
Sarah Masuzzo, Marketing Coordinator
Guardair Corporation
54 Second Avenue
Chicopee, MA 01020
(800) 482-7324
SMasuzzo@guardaircorp.com

Visit us online at www.guardaircorp.com or contact us at info@guardaircorp.com.

More from Packaging Products & Equipment