GSM Is Your One-Source Ventilation Solution for Industrial Hygiene Issues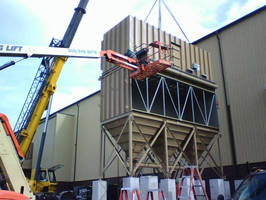 GSM is Your One-Source Solution for Industrial Hygiene Solutions.

As defined by the American Industrial Hygiene Association, Industrial Hygiene is the "Science and art devoted to the anticipation, recognition, evaluation, prevention and control of those environmental factors or stresses arising in or from the workplace which may cause sickness, impaired health and well being, or significant discomfort among workers."

Our team of experienced designers, engineers and project managers provide our customers with a one-source solution from concept to design to fabrication to installation. Projects include:

Dust Collection Systems capture and convey particulate from process machinery to a control device such as a cartridge collector or bag house. By integrating a secondary filtration device (such as HEPA), the air can be returned to the facility, thereby reducing costly air make-up requirements.

Oil Mist Collection Systems capture and convey oil mists to a collector/separator. The oils can be recycled and the air can be returned to the facility.

Floor Sweeps capture fugitive emissions from low-lying areas around production equipment.

Capture Hoods capture smoke and fugitive emissions from process machinery such as extruders, conveyors, dump hoppers, etc.

Spot Cooling protects workers from excessive heat. Attempting to cool the entire manufacturing area is very costly and unnecessary. Spot Cooling supplies and conveys cool, fresh air directly to the common workplace areas.

Learn more about Industrial Ventilation for these services:

Air Pollution Control

Dust Collection

Fume Control

General Ventilation, Make-up Air & Exhaust

Field Services

Resources

OSHA mandates Permissible Exposure Limits (PELs) to protect workers from the harmful effects to hazardous substances. As defined by OSHA, "PELs are regulatory limits on the amount or concentration of a substance in the air."

If you are looking for a source on general industrial hygiene information, The National Institute for Occupational Safety and Health (NIOSH) publishes the NIOSH Pocket Guide to Chemical Hazards. This publication contains several-hundred chemicals/classes for workers, employers and occupational health professionals.


More from Agricultural & Farming Products