GS EDM Polishing Stone Eliminates the Need of Lengthy Pre-Lubrication Process
Press Release Summary: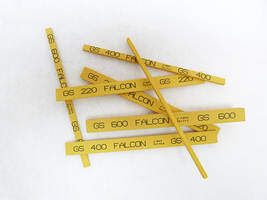 GS EDM Polishing Stone is made from aluminum oxide grain and proprietary treatment process. These stones are suitable on tools steels such as EDM surfaces, milling and machining marks. Units increases material removal rate and breakdown rate.
---
Original Press Release:
Falcon Tool Introduces New "GS" EDM Polishing Stone
(Traverse City, MI, 3/21/2018) – Falcon Tool is proud to announce the addition of the "GS" EDM Polishing Stone to their comprehensive line of made in USA polishing and sharpening stones.
Made from select premium aluminum oxide grain and a proprietary treatment process, the GS is of medium hardness with a fast breakdown offering quick material removal while contouring quickly and leaving a silky, smooth finish. The GS works on all tool steels and performs exceptionally on EDM surfaces, milling and machining marks. The GS does not require a lengthy pre-lubrication process and is terrific when used during hand stoning as well as with profilers.
"We developed the GS Stone for customers who were looking for an EDM stone that cut fast but also left a smooth silky finish," said Annette Thompson, Marketing and Sales Manager at Falcon Tool.  "We ran extensive real-world trials with the help and expertise of professional mold polishers throughout the U.S. to optimize the product's properties." When tested against competitive stones, the GS was slightly harder, lasted longer, held its shape better and provided a better finish.
The GS Stone as well as the rest of Falcon Tool's unrivaled selection of polishing stones, tools, equipment and accessories are available on our website www.falcontool.com.
About Falcon Tool
For over 45 years Falcon Tool Company, Inc. has had an unequaled reputation for fine quality, fast service and competitive prices. Go to Falcon Tool for an unrivaled array of fine tools for: mold makers, die makers, engravers, die sinkers, tool rooms, production plants, and hobbyists ready to ship the same day as ordered.
For Immediate Release
For more information contact:
Lesley Murphy
Sales and Marketing Manager – Mold Polishing Products
231.929.2121 x 1141
www.falcontool.com
More from Construction Equipment and Supplies