Grounding Package monitors current through neutral conductor.
Press Release Summary: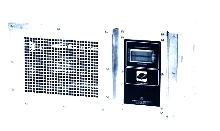 Groundskeeper(TM) High Resistance Grounding Package allows process to continue until completion, allowing user to monitor system and clear fault at a later time. Continuously Rated Neutral Grounding Resistor is connected to transformer or generator's wye point, limiting ground fault current to safe level when line to ground first occurs. Resistor elements are wound from stainless steel alloy. Voltmeter and ammeter suit indoor and outdoor applications.
---
Original Press Release:

INTRODUCING GROUNDSKEEPER(TM) - POST GLOVER'S NEW ECONOMICAL, COMPACT HIGH RESISTANCE GROUNDING PACKAGE.


Erlanger, KY, May 06, 2002 (For Immediate Release) - Post Glover Resistors Inc. introduces the Groundskeeper(TM), High Resistance Grounding package. Industrial plants that want to keep a close watch on the current flowing through the neutral conductor of their low voltage power system will find the Groundskeeper a
handy tool. This High Resistance CSA Approved Grounding package allows a process to continue until its completion, allowing the user to monitor his system and later clear the fault at a convenient time.

Resistor elements are wound from a special stainless steel alloy. The voltmeter and ammeter are available for both indoor and outdoor applications. Provided with an easy-to-use disconnect switch, the service engineer can conveniently take the resistor off-line for system upgrades and service.

Continuously Rated Neutral Grounding Resistor is connected to the transformer or generator's wye point. Limiting the ground fault current to a safe level when a line to ground first occurs.

Ammeter: This digital meter shows the amount of current in the neutral to ground connection.

Voltmeter: This digital meter shows the voltage drop across the neutral grounding resistor, thereby showing the neutral-ground voltage.

Disconnect Switch: This three-phase switch provides a means to disconnect the neutral grounding resistor from the system. Both the neutral and 480 volt power for the metering pass through this switch. Therefore, it is possible to disconnect the entire
Groundskeeper(TM) for servicing, including the neutral grounding resistors.

The Groundskeeper(TM) is provided in a rugged powder-coated enclosure properly ventilated for many years of reliable service.

For more information, please visit Post Glover's web site or contact:
Mr. Mark Meister, Vice President Sales & Marketing, Ext. 134
Post Glover Resistors Inc., P.O. Box 18666, Erlanger, KY 41018
1-800-537-6144, 859-283-0778, Fax: 859-283-2978
E-mail: markm@postglover.com
Internet: www.postglover.com


More from Packaging Products & Equipment