Ground Monitoring System senses high resistance in soil.
Press Release Summary: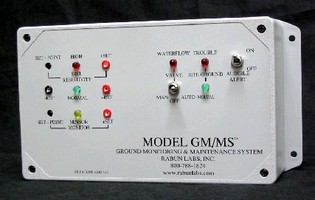 Solid-state GMMS Ground Monitoring System continuously monitors integrity of electrical grounding system. When it senses moisture in soil has reached unacceptable level, it automatically activates solenoid valve, allowing water or resistance lowering material to be applied to area. Once soil resistivity reaches acceptable level, unit automatically resets and resumes monitoring. Unit also monitors connection of AC outlets and equipment to electrical grounding system.
---
Original Press Release:

Rabun Labs' GMMS Ground Monitoring System



Rabun Labs' GMMS Ground Monitoring System

What is it?
A patented solid-state device that continuously monitors the integrity of your electrical grounding system and automatically does something about it if there is a problem.

Why do I need it?
In dry areas or when there is little rain, moisture in the soil evaporates, causing resistance of the earth to dramatically increase. This in turn causes the effectiveness of your electrical grounding system to be adversely affected without you being aware of it.

Grounding is a major ingredient for glitch-free operation of electrical & electronic systems. In addition, the common transient and noise reduction devices use to protect these systems such as UPS systems, power conditioners, voltage regulators, surge suppressors, etc. will be rendered ineffective if connected to a defective ground.

How does it work?
When the unit senses that moisture of your soil has reached an unacceptable level, it automatically activates a solenoid valve allowing water or resistance lowering material to be gently applied to the area around your electrical grounding system. Once the soil resistivity reaches an acceptable level, the unit automatically resets and resumes monitoring. The unit can be connected to remote monitoring systems for notification of your ground system status.

The unit also monitors connection of your AC outlets and equipment to the electrical grounding system. Should a problem occur, the unit will report this through audible and visual indicators as well as to remote monitoring systems.

How big is it?
7 ½ inches X 4 ½ inches X 2 inches, wall-mounted, gray non-metallic enclosure. Weighs 1 pound.

For more info: www.rabunlabs.com


More from Material Processing