Ground Fault Relay offers adjustable time delay of 0-1.5 sec.
Press Release Summary: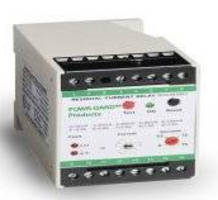 Connected to WKE Series current transformer, RCD300M2 senses fault current, and if fault current exceeds relay trip setting, it activates and sends signal to disconnect high potential from equipment. Features include adjustable trip setting of 10 mA to 3 A, relay supply voltage of 24V AC/DC, or 120 Vac, 50-60 Hz, breaking capacity of 3 A at 240 Vac and 0.3 A at 110 Vdc, and fault indicator LEDs. Relay provides signal output to drive either remote meter or PLC.
---
Original Press Release:

Littelfuse Ground Fault Relay Increases Safety for Personnel and Equipment While Avoiding Nuisance Trips



DES PLAINES, Illinois, November 19, 2008 - Littelfuse, Inc. (NASDAQ/NGS:LFUS) today announced its RCD300M2 Differential Current Relay, designed to improve worker safety and protect equipment from dangerous electrical ground faults. To avoid nuisance tripping that occurs with conventional ground fault relays, maintenance workers tend to increase trip points above sensitive levels. However, this defeats the purpose of having a ground fault relay that is sensitive enough to protect workers from potentially life-threatening electric shock or Arc-Flash incidents. The RCD300M2 solves this problem by using unique technology that provides highly sensitive protection while avoiding nuisance trips and unnecessary equipment shutdown.

The new ground fault relay also provides features for automated monitoring and control in power distribution panels, switchboard installations, municipal utilities, elevators, new construction sites, and similar applications. The RCD300M2 ground fault relay features include an adjustable time delay (0-1.5s), fault indicator LEDs, and signal output to drive either a remote meter or PLC (programmable logic controller). This output gives the RCD300M2 both protective and predictive capabilities - leakages can be seen as they develop, and ground faults can be detected before they become critical.

Importance of Ground Fault Protection

Ground faults are unintended conductive paths from a high potential line to ground, allowing electrical currents to pass through sensitive equipment components, or through personnel who touch the equipment housing. In either case, the results can be devastating.

Ninety percent of all ground faults occur slowly due to dust buildup, moisture ingress, vibration, cable chaffing, or chemical and corrosive vapors, which lead to earth-leakage or residual-current ground faults that escalate to high current levels. Typically, each year there are about 150 fires and explosions in commercial and industrial buildings caused by electrical grounding failures, with an average loss of more $575,000 per event (per FM Global). The worst of these are often dangerous Arc-Flash events.

How It Protects

The RCD300M2 ground fault relay is connected to a Littelfuse WKE Series current transformer (CT), and together they sense the fault current. Advanced filtering techniques are used to differentiate between fault current and typical noise or harmonic current. If the fault current exceeds the relay trip setting, it activates and sends a signal to disconnect high potential from the equipment. Seven different CT sizes are available for a wide range of wire gages and applications. In addition, the RCD300M2 can operate in a fail-safe mode by continuously checking the CT connection. If the CT circuit is broken, the RCD300M2 illuminates the "CT Fault" lamp and activates its disconnect relay, just as if a ground fault had occurred.

Other Specifications

Adjustable Trip Setting: 10mA to 3A

Relay Supply Voltage: 24V AC/DC, or 120VAC, 50-60 Hz

Two Form C Alarm Relay Contacts:

1100VA switching capacity (closure)
5A continuous current
250V rating

Breaking Capacity:

3A @ 240VAC (P.F. = 0.4)
0.3A @ 110VDC (resistive load)

Availability

Samples of the RCD300M2 are available from stock. OEM quantity orders typically ship 1-3 weeks ARO.

For More Information on the RCD300M2 ground fault relay, or any of Littelfuse's circuit protection devices, visit the Littelfuse website at littelfuse.com/series/RCD.html, or call the Littelfuse Technical Support line at 1-800-999-9445.

About Littelfuse - As the worldwide leader in circuit protection products and solutions with annual sales of $536.1 million in 2007, the Littelfuse portfolio is backed by industry leading technical support, design and manufacturing expertise. Littelfuse products are vital components in virtually every product that uses electrical energy, including automobiles, computers, consumer electronics, handheld devices, industrial equipment, and telecom/datacom circuits. The POWR-GARD business unit specializes in fuses for construction and industrial applications. POWR-GARD offers a full line of fuses, ground fault relays and electrical safety services to enhance the protection of workers and equipment from electrical incidents. For more information, please visit Littelfuse's Web site at www.littelfuse.com.

Littelfuse, Inc.
800 E. Northwest Highway Des Plaines,
IL 60016 USA


More from Test & Measurement