Grooving/Cut-Off System offers plunging and turning geometry.
Press Release Summary: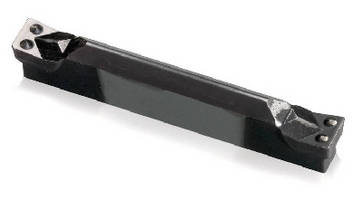 Providing precise insert positioning and overall system rigidity, WMT™ Grooving and Cut-off System is available with PH geometry, designed for plunging and turning in materials harder than 35 HRC or in heavily interrupted cuts across broad range of work materials such as steel, stainless steel, aluminum, cast iron, and high-temperature alloys. PH WMT insert has 90° top and bottom clamping design, rigid cutting edges, and positive geometry.
---
Original Press Release:

Proven WIDIA WMT(TM) Grooving and Cut-off System Adds New High-Performance PH Geometry



Chipbreaker and rigid cutting edge are first choice for hard materials and interrupted cuts



Caption: New PH plunging and turning geometry for the WMT platform from WIDIA.



Job shops around the world may have business and customer requirements unique to each company, but concerns on how to improve costs and secure more business are common to all. "Shops want more performance options, and at the same time don't want multiple, job- or material-specific tooling solutions tying up their inventory," says Mark Filosemi, global product manager, threading, grooving, and cut-off for WIDIA. "Where productivity is concerned, particularly in grooving, and cut-off, you have to have a versatile system to be serious. That's where the WIDIA WMT platform is a proven winner, because shops can do more with it."



Now that platform is expanding with the addition of the new high-performance PH geometry, designed and engineered for plunging and turning in materials harder than 35 HRC or in heavily interrupted cuts across a broad range of work materials.



The new PH geometry fits in with the proven features that make WIDIA's WMT platform a core program for grooving, and cut-off. One toolholder securely seats whatever insert geometries are needed: PT for plunging and turning, PC for plunging and contouring, CM for cut-off (or CM-W with wiper), and the new PH geometry for plunging and turning hard materials.



The WMT toolholder is engineered with an extra-long clamping area for excellent insert stability. The proprietary "Double V" system makes it easy to securely seat inserts in the toolholder pocket for both optimal insert positioning and superior side-load resistance. Such precise insert positioning and overall system rigidity both translate into notably improved accuracy and tool life, whether it's face grooving, ID grooving, OD grooving, plunging, or profiling that needs to be done.



With its 90o top and bottom clamping design, rigid cutting edges, and positive geometry, the new PH WMT insert is the first choice for plunging and turning hard materials or in accomplishing interrupted cuts in steels, stainless steels, aluminums, cast irons, or high-temperature alloys. The recommended WU25PT grade for interrupted cutting features an advanced PVD TiAlN coating for longer tool life, equating to more parts per edge.



"Whether companies are familiar with the WMT system or coming to it for the first time, the value remains: one toolholder, multiple options," Filosemi says. "Adding the new PH geometry for plunging and turning hard materials or doing interrupted cuts gives shops more options to get the jobs done."



For more information, visit www.widia.com.



WIDIA-brand products and services have defined innovation in the metalcutting industry for more than 80 years — from the world's first patent for carbide indexable inserts to the development of the world's first coated grades. The WIDIA brand offers a complete portfolio of precision-engineered products and custom solution services. With thousands of milling, turning, holemaking, and tooling systems products available through a worldwide network of authorized distributor partners, you'll find everything you need from one

single source.



To locate a WIDIA distributor, contact: WIDIA Products Group 800-979-4342 or visit our webiste www.widia.com

More from HVAC