Grippers automate seal/O-ring placement assembly.
Press Release Summary: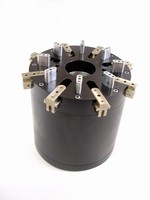 Able to spread and place up to 12 in. ID seals, AGP-8-OR facilitates part ejection and part seating. Pneumatic parallel gripper offers independent spreading and ejector movements and has 1.5 in. dia through hole. It can be tooled to accommodate all types of rings from .5-12 in. ID, and end of stroke sensing is available. While 8-jaw AGP-8-OR measures 5 in. dia x 5 in. tall, 6-jaw version (AGP-6-OR) measures 2.5 in. dia x 2.7 in. tall and is suited for handling up to 3 in. ID seals.
---
Original Press Release:

Automated Seal /O-Ring Assembly from Small to Large O Ring Placement Applications



Spread and place seals with these dual motion automatic o-ring placement assembly machines. Two sizes available, one for handling up to 3 inch I.D. AGP-6-OR (six jaw) and a larger unit to handle up to 12 inch I.D. AGP-8-OR (eight jaw) multi motion through-hole parallel grippers.

Both are designed to facilitate part ejection and part seating. The grippers are ideal when an ejector is needed after part placement or when seal is to be placed down a long shaft.

AGP-8-OR a sixteen jaw o-ring installation gripper has independent spreading, ejector movements and has a 1.5 inch diameter through hole.

This pneumatic gripper has two independent pistons, the spreading jaws are double acting and the other ejector jaws are single acting. When air pressure is applied to the first piston, eight parallel jaws expanding .55 inch each spread the o-ring providing an octagon shape. The octagonally stretched O-ring requires less overall expansion and considerably less deformation during assembly insertion process. The opening stroke can be precisely adjusted using the set -screw so there isn't over expansion. After the o-ring is expanded and over the part, air pressure is applied to the second piston. This causes the ejector jaws to push forward .5 inch and push off the O-Ring seal from the spreading jaws, and onto the part being assembled or installed. The O-Ring grippers can be tooled to accommodate all types of rings, the smallest would be the smallest you can make your tooling jaws to fit the inside diameter and the largest is approximately twelve inch diameter depending on the cross section. End of stroke sensing is available for both the spreading and ejecting jaws. The size of the AGP-8-OR unit is 5 inches diameter by 5 inches tall. Spreading jaws have 200 lbs. force per jaw @80 psi and ejector jaws have 320 lbs. @ 80 psi. The smaller unit (AGP-6-OR) is 2.5 inches diameter by 2.7 inches tall. Spreading Jaws have 62 lbs force @80 psi and Stripping Jaws have 80 lbs @ 80 psi. Both available from stock.

Two and 3D cad available on our web site. www.agi-automation.com

Some of the most important features of the AGP-8-OR:

· This unit has a through hole design, so a product can be past through the gripper and the o-ring can be placed anywhere on a long part.
· The expander jaws travel in the t - slot bearing guides to provide exceptional resistance to all moment loads.
· A large piston provides strong expansion force to expand large cross section O-ring and hard durometer materials.
· Rapid cycle times. Semi & fully automatic seal placement.
· Incorporate in full assembly systems or stand alone work- stations.
· Capable of inserting from .5" - 12" I.D. Size O-rings.
· Vertical or horizontal placement. No lubrication of O-ring necessary.

These units are stocked at AGI - American Grippers inc. 171 Spring hill Rd. Trumbull, CT. 06611 Phone # (203) 459-8345 Web site www.agi-automation.com

More from Agricultural & Farming Products