Grip Chains clamp and transport thin materials.
Press Release Summary: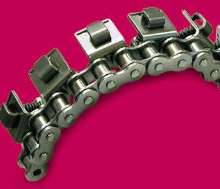 IWIS Grip Chains enable feeding, transporting, and positioning of soft foils, plastics, and other thin packaging materials with large areas. Offered in single- and double-row versions with 1- or 2-tip grippers, chains feature wear- and corrosion-resistant nickel-plated clamping elements. Differing levels of spring force allow wide range of materials to be gripped gently. Swiveling action promotes proper and consistent feeding of materials.
---
Original Press Release:

IWIS High-Performance Grip Chains Reliably Clamp and Transport Thin Materials


IWIS high-performance Grip Chains available from SKF Motion Technologies enable reliable feeding, transporting, and positioning of soft foils, plastics, and other thin packaging materials with large areas.

These chains feature wear- and corrosion-resistant nickel-plated clamping elements as standard to promote optimized performance and service life in any packaging operation.

Styles include single- or double-row chains and grippers with one or two tips. Differing levels of spring force allow an extremely wide range of materials to be gripped gently for precise positioning and conveyance.

A unique swiveling action designed into the grippers promotes proper and consistent feeding of materials to be transported. Grippers open by running against a control disc (such as a chain wheel hub), which causes them to swivel outside and out of the way.

Initial lubrication is provided and approved for use in food-related applications.

Special gripper designs can be developed and differing numbers of coils and wire-spring diameters are available to satisfy application-specific requirements.

Contact Kody Fedorcha, SKF Motion Technologies, 1530 Valley Center Parkway, Bethlehem, PA 18017-2266 USA. Phone: 800-541-3624 (toll-free) or 610-861-3712. Fax: 610-861-3737. Web site: www.linearmotion.skf.com

(SKF® is a registered trademark of SKF USA Inc.)