Grinding Fluid features high-lubricity formula.
Press Release Summary: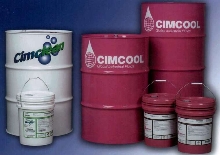 QUANTALUBE® 270 XL consists of water-based metalworking fluid designed to improve part quality in grinding applications. Helping to extend wheel life, fluid offers antiweld and antiwear properties as well as ability to remove heat and swarf from cutting area. Material removal process combines roughing and finishing while removing stock to precision limits. Product performs similarly to straight oils, without being messy, hard to remove, or a fire hazard.
---
Original Press Release:

Grinding Success Can Depend on Right MWF


CINCINNATI - CIMCOOL® Global Fluids introduces the "quantum leap technology" of CIMCOOL® QUANTALUBE® Products, water based metalworking fluids, to improve productivity and part quality in all types of grinding applications while reducing overall manufacturing cost.

Grinding processes with a very high-degree of severity and pressures, such as bearings, struts or valve grinding require a high performance fluid. This material removal process combines roughing and finishing while removing stock to precision limits faster and with better finish quality than other types of metal cutting processes.

The grinding wheel is the principle difference between this and metal cutting processes. The operation requires high lubricity (often achieved by using extreme pressure (EP) lubricants) and good heat and swarf removal. The nature of the operation makes it difficult for fluid to reach the point of cut for heat and swarf removal especially in centerless grinding operations.

QUANTALUBE® 270 XL is a new generation high lubricity grinding fluid. The advantages for using the QUANTALUBE® 270XL products for grinding are:

In terms of EP lubricity, this product performs similar to straight oils without the problems often associated with oils (messy, hard to remove, fire hazard, etc.).

QUANTALUBE® 270XL also increases wheel life up to four fold when compared to soluble oils or synthetics. Further, these "quantum leap technologies" permit higher stock removal than with conventional water based fluids, are clean and easy to use and result in a superior part finish.

The acknowledged characteristics of a good grinding fluid include excellent antiweld and antiwear properties, excellent ability to remove heat and swarf from the cutting area and easily coats the metal surface.

Success examples

o Automotive manufacturer: When plunge rough and finish grinding of air conditioning compressor wobble plates of malleable cast iron, QUANTALUBE® 270XL provided annual savings of $280,000 by reducing labor costs and a substantial reduction in the purchase of grinding wheels and diamond dressing tools. Fluid concentration, 7 % in four individual machines with 1,000 gallons per machine.

o Automotive components manufacturer: When centerless grinding fuel injector needle and bodies of 440C stainless, 95Rc on two machines with a 700 gallon system, QUANTALUBE® 270XL at a 5% fluid concentration reduced dressing from once per hour to once per shift, increased wheel life more than two fold, increased production by 20% more parts per hour, improved finish and part geometry and resulted in less wear to work blades and diamond dressers.

o Heavy equipment manufacturer: Centerless grinding of diesel fuel injector valves of 52100, 64Rc, QUANTALUBE® 270XL at 5-7% concentration replaced a competitive synthetic fluid, improved productivity and part quality and generated costs savings for tooling and operations of $550,00 per year. Further, grinding wheel life doubled, and an additional $250,000 savings per year resulted through the reduction in the number of diamond dress rolls used.

Milacron, Inc, is a global leader in the design, manufacturer and service of metalworking fluid technology. It is a leading supplier of chemical management services to help the metalworking industry manage metalworking fluids and reduce costs. It is certified ISO 14001, ISO 9001, ISO 9002 and ANSI/ASQ Q9001.

For more information, contact Milacron Marketing Company, 3000 Disney Street, Cincinnati, OH, 45209; 1-888-246-2665; www.cimcool.com

More from Architectural & Civil Engineering Products