Grinding Attachment optimizes efficiency of VTCs.
Press Release Summary: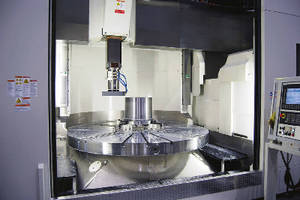 Adding surface finishing to processing capabilities of vertical turning centers, automatically changed Grinding Attachment allows finishing of ID, OD, and plane surfaces on parts up to 185 in. diameter. VTCs equipped with 22/33 kW grinding attachment can produce better than 10 µin. finishes and roundness of less than 60 µin. with diameter size control of 0.001 in. Utilizing wheel sizes up to 15.75 in., attachment produces 295 lb-ft torque and max speed of 3,000 rpm.
---
Original Press Release:

New Grinding Attachment Increases Multi-Processing Efficiency of Vertical Turning Centers



Ideal for finishing bearings and planetary gearboxes up to 4700 mm diameter, grinding system produces micro inch finishes on ID and OD

A new automatically changed grinding attachment adds surface finishing to the one-stop processing capabilities of MAG's vertical turning centers, allowing finishing of ID, OD and plane surfaces on parts up to 4700 mm (185 inches) diameter. Ideal for large bearings and gearboxes used in machinery for the mining, construction, marine and energy industries, the system will be exhibited at IMTS on a MAG VTC 2500.

VTC's equipped with the new 22/33 kW (29.5/44 hp) grinding attachment can produce better than 10 micro inch finishes and roundness of less than 60 micro inch, with diameter size control of 0.025 mm (0.001 inches). The grinding attachment can utilize wheel sizes up to 400 mm (15.75 inches) and produces 400 Nm (295 ft lb) torque and a maximum speed of 3000 rpm. Equipped for grinding work, VTC's are enhanced with a modified coolant and filtration system, hand-held wash wand, stainless steel bowl enclosure with extra side flush, covers over the column ways, and a heavy duty chip conveyor to handle grinding swarf. Full X-axis travel on MAG VTC's provides room for a highly rigid dressing tool outside the work zone, allowing the machine to accept its maximum part size without restriction. Normally stored in an off-line tool drawer, the grinding attachment joins live spindles, right-angle heads, horizontal adapters and other attachments that can be changed automatically on the VTC's for maximum machine uptime and single-setup part completion.

One of the most versatile turning systems for large parts, MAG's VTC's in table size 1000 mm to 4500 mm (39.4 - 177 inches) can already perform standard and hard turning, as well as live-spindle machining, contouring and part probing operations on multiple sides and the full diameter of a part. Ideal for grinding applications, these machines are FEA-designed for maximum strength-to-weight ratio, stiffness and rigidity, with heavily ribbed cast iron or robust steel weldments used for major components, such as base, column and cross slide, depending on the machine size. The adjustable cross slide, with MAG's unique leveling technique and patented rail clamping system, allows ram extension to be minimized during grinding for maximum system stiffness. A Wedge Lock tooling system with hydraulic clamping force of 150,000 N (33,000 lb) allows use of tools up to 700 mm (27.5 inches) long. The 250 mm-square (10 inches) hydrostatic ram resists torsion and vibration to produce superior surface finishes, and allows downward feed thrust up to 34,000 N (7,600 lb). Cross rail leveling with dual linear scales ensures parallelism between table and rail, with leveling accuracy of 10 microns (0.0004 inches). Preloaded roller guideways enhance system stiffness and reduce friction for excellent contouring accuracy.

Tables are extensively supported with a combination of tapered roller and flat thrust bearings to handle constant use at maximum load ratings. The table design resists tipping with unbalanced loads, and superior accuracy is ensured with factory-specified maximum 0.005 mm (0.0002 inches) table runout. Table drives are rated 84 kW (112 hp) to 108 kW (145 hp), and capable of producing maximum torque of 17,113 Nm (12,623 ft lb) to 111,116 Nm (81,955 ft lb). Full contouring with the table C-axis enables drilling, tapping or mill turning of features anywhere on the workpiece with contouring/positioning by 360,000-position table.

A standard 26-position tool changer accommodates six Wedge Lock and 20 modular tools. Various options for the VTC line include expanded tool capacity, part and tool probing systems, pallet changer and fourth axis. Fanuc 310i or Siemens 480D controls are standard.

About MAG

MAG is a leading machine tool and systems company serving the durable goods industry worldwide with complete manufacturing solutions. With a strong foundation based upon renowned brands such as Cincinnati, Cross Hüller, Fadal, Giddings & Lewis, Hüller Hille, Witzig & Frank, Hessapp, Ex-Cell-O, Honsberg and Boehringer, MAG is recognized as the preeminent provider of tailored production solutions based on state-of-the-art technology. Key markets served include aerospace, automotive and truck, heavy equipment, oil and gas, rail, solar energy, wind turbine production and general machining.

With manufacturing and support operations strategically located worldwide, MAG offers comprehensive lines of equipment and technologies including process development, automated assembly, turning, milling, automotive powertrain production, composites processing, maintenance, automation and software, and core components.

For more information about MAG, please visit: www.mag-ias.com

Related