Green Roof and Facilities Managment Aided by Weather Monitoring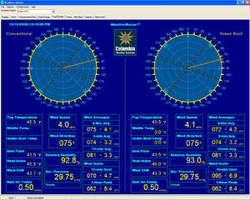 An innovative building project in the community of Omaha, Nebraska, incorporates a green roof, monitored by Capricorn 2000EX(TM) weather stations from Columbia Weather Systems, Inc.

The weather stations monitor meteorological parameters used to compare energy efficiency between the green roof and a traditional roof.

Kevin Schluckebier of BCDM architectural firm reports, "One day last summer there was an almost 30 degree difference - 98 on the green roof, 125 on the traditional roof. You can see that the roofing material waterproof membrane will likely last longer on the green roof." Additional considerations include the impact on HVAC systems.

The Saddlebrook Joint Facility is a collaborative effort. Douglas County and the City of Omaha teamed up to pool grant money from the State of Nebraska to incorporate the green roof, weather stations and bioswale in this unique facility which houses an elementary school, a public library and community center.

Customized WeatherMaster(TM) Software displays the dual station weather parameters on monitors in the library and along the walking track that surrounds the upper level of the gym and provides visual access to the green roof.

Columbia Weather Systems, Inc. manufactures professional weather monitoring equipment used around the world in applications where weather affects lives and resources.