Green Pump Laser suits Ti:sapphire amplifiers.
Press Release Summary: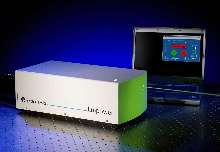 Empower(TM) diode-pumped Nd:YLF laser, with 527 nm output, pumps Ti:sapphire amplifiers such as company's Spitfire® series. Q-switched laser delivers over 30 W at adjustable pulse repetition rates between 1-10 kHz, with pulse energies of over 20 mJ. With field-replaceable pump module, it utilizes intercavity frequency doubling and does not require external cooling water. Other applications include materials processing tasks for microelectronics.
---
Original Press Release:

New Green Pump Laser for Ti:sapphire Amplifiers


MOUNTAIN VIEW, CA (January 16, 2004) - Spectra-Physics has released the Empower(TM), a next generation diode-pumped Nd:YLF laser with high power green (527 nm) output that is ideal for pumping Ti:sapphire amplifiers such as the Spectra-Physics Spitfire® series. The Empower is a Q-switched laser delivering up to > 30 watts at adjustable pulse repetition rates between 1 kHz and 10 kHz. Pulse energies are as high as >20 millijoules.

The Empower is based on a single Nd:YLF rod that is side-pumped by continuous wave laser diode bars, mounted in a compact field-replaceable pump module. It utilizes intracavity frequency doubling in order to provide the combination of efficiency and stability that is necessary for pumping state of the art regenerative Ti:sapphire amplifiers. The Empower does not require any external cooling water. Laser operation is entirely computer controlled through a serial interface for simple system integration and remote control. The laser head measures only 20" x 10" x 7" (51 cm x 25 cm x 18 cm), making the Empower one of the most compact lasers in its class.

Steve Sheng, President of the Lasers Business Unit at Spectra-Physics, states: "With all the market excitement surrounding our new direct-diode pumped amplifier technology, it is important not to forget about Ti:sapphire amplifiers. They still offer the shortest commercially available pulsewidths. We are committed to expanding our leadership position in ultrafast technology and that means we will continue to invest in our Spitfire product line. The Empower is a highly advanced laser which meets the needs of both our current and future Ti:sapphire amplifiers."

Although the Empower has been specifically optimized for pumping ultrafast amplifiers, its high pulse energy makes it suitable for other applications, particularly for materials processing tasks in the microelectronics industry.

About the new Spectra-Physics

Founded in 1961, Spectra-Physics was the first commercial laser business and has grown to become a global leader in the design, development, manufacture, and distribution of solid-state and high-power semiconductor lasers, gas lasers and ultrafast systems for industrial, scientific, micro-electronics, and biomedical markets. Today, Spectra-Physics has expanded to provide a broader spectrum of photonics products, capabilities, and services including Corion thin-film interference filters, Hilger scintillation and electro-optic crystals, replicated diffraction gratings from Richardson Gratings, Oriel Catalog and Instruments, and CIDTEC charged-injection device (CID) solid-state video cameras. Spectra-Physics is a wholly-owned business of Thermo Electron Corporation (NYSE: TMO).

For more information, visit www.spectra-physics.com.

More from Material Handling & Storage