Green, Eye-Safe Laser Pointers enhance rifle laser system.
Press Release Summary: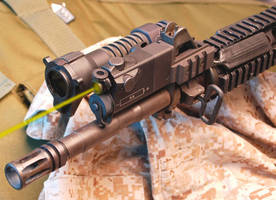 Rated at less than 5 mW, GREEN Ultra Power Point(TM) Laser Pointer improves range (225 m max) and visibility in daylight and at night and promotes accelerated target acquisition. Rated less than 0.7 mW, Class 1 Eye-Safe IR Laser Pointer is designed for users equipped with night vision devices. Both options are intended for use with AR-2A laser system, which mounts directly to A-Frame front sight of AR-15/M-4 style rifles without requiring any rails.
---
Original Press Release:

Laser Devices' Most Popular Commercial & LE Laser System, the AR-2A for AR-15/M-4 Style Rifles, is Now Available with a Green Laser Pointer or a Class 1, Eye-Safe IR Laser Pointer



SHOT Show 2012-Laser Devices, Inc. (LDI), manufacturer of state-of-the-art visible and infrared aiming lasers, handheld and weapon-mounted tactical lights and small arms training systems is pleased to announce the addition of a GREEN Ultra Power PointTM Laser and a Class 1, Eye-Safe IR Laser Pointer option for the AR-2A for AR-15/M-4 style rifles.

Our <5mW GREEN laser pointer improves range and visibility in daylight and at night. It offers faster target acquisition and is FIVE times more visible than traditional red lasers.

The NEW eye-safe <0.7mW Class 1 Infrared laser pointer is designed for users equipped with night vision devices. Particularly suitable for Law Enforcement agencies that engage in CQB and require lasers that will not harm the public, this eye-safe model offers up to 225 meters operational range.

The AR-2A is our most popular commercial and law enforcement product. The laser mounts directly to the A-Frame front sight of AR-15/M-4 style rifles - no rails required! In addition, the AR-2A is supplied with dual MIL-STD-1913 side rails which provide a sturdy mount for tactical lights or other accessories. The AR-2A is compact and lightweight - only 5.6 ounces, manufactured from rugged aerospace aluminum, waterproof to 3 meters, and is powered by a single 1.5-volt AA battery. Manufactured in the U.S.A.

Export of this product is subject to U.S. Export control through ITAR (International Traffic in Arms Regulations).

About Laser Devices, Inc.
Laser Devices, Inc. specializes in the design and manufacture of sophisticated electro-optical devices for firearms. Founded in 1979, Laser Devices is known for its state-of-the-art visible and infrared laser aiming devices, handheld and weapon-mounted tactical lights and small arms training systems used by Military, Law Enforcement and Special Forces personnel worldwide. Laser Devices has been awarded numerous U.S. Military contracts including the MFAL Contract which resulted in the shipment of over 50,000 advanced laser systems to the U.S. Army for use in Iraq and Afghanistan. The company is located in Monterey, California where 100% of its products are designed and manufactured in its 30,000 square foot facility. Laser Devices holds a number of U.S. patents and maintains an ISO 9001:2008 Certified QMS.

Contact: Richard Ader
Director of Sales & Marketing
Tel: 831-373-0701 | 800-235-2162 ext. 233
rader@laserdevices.com
www.laserdevices.com

More from Test & Measurement