Grease is highly water resistant.
Press Release Summary: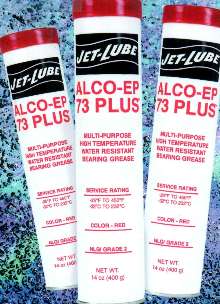 ALCO EP-73 Plus(TM) specialty grease, for all metal surfaces, adheres or injects effectively in fresh or salt-water applications. Aluminum complex base mixed with anti-wear additives provides -25 to +400°F service rating. It is suited for subsea, offshore, and marine applications and also acts as high-temperature bearing grease. Grease meets MIL-G-18458 (SH) and is available in sizes from cartridges to 400 lb drums.
---
Original Press Release:

Highly Water Resistant Performance Grease


Houston TX-Jet Lube's ALCO EP-73 Plus(TM) is an extremely water resistant specialty grease that adheres or injects effectively in fresh or salt water applications. Its naturally water resistant aluminum complex base mixed with anti-wear additives allows it to be effective where tolerances are low and speeds and loadings are high. Polymer additives further enhance moisture and corrosion resistance and its ability to adhere to all types of metal surfaces. With a -25° to 400° F (-32° to 204° C) service rating, ALCO-73 EP Plus is an extremely versatile high performance grease. Proven in a variety of subsea, offshore and marine applications, ALCO-73 EP Plus is also an effective high temperature bearing grease to protect equipment used in hot humid climates, steam and applications that subject or submerge equipment in water. ALCO EP Plus meets MIL-G-18458 (SH) and is available in sizes ranging from cartridges to 400 lb drums. For more details call or write:

Jet Lube
4849 Homestead Rd.Ste. 200
Houston, TX 77028
1-800-JET-LUBE
FX: 713-678-4604
E-mail: sales@jetlube.com
etlube.com
Attn: Doug Dearing

More from Machinery & Machining Tools