Gravimetric Feeder handles plastic pellets and regrind.
Press Release Summary: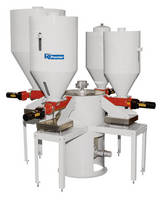 Consisting of 1-8 feeders and central microprocessor-based controller, ProRate(TM)/Gravimetric Feeder continuously meters raw materials into central station hopper. Each feeder operates in independent, continuous loss-in-weight scaling mode to insure accuracy of each ingredient. Controller monitors weight signals of each feeder and adjusts auger speed to match recipe feed rate. Unit controls 1-8 feeders simultaneously, providing capacity from 1-80,000 lb/hr.
---
Original Press Release:

Loss-in-Weight Gravimetric Feeder



Premier Pneumatics, Inc.'s ProRate(TM)/Gravimetric Feeder handles plastic pellets and regrind. Consisting of one to eight feeders and a central microprocessor-based controller, the ProRate(TM)/Gravimetric Feeder is designed to continuously meter raw materials accurately into a central station hopper.

Each of the feeders operates in an independent, continuous loss-in-weight scaling mode to insure premier accuracy of each ingredient. The controller continuously monitors the weight signals of each feeder and adjusts the auger speed to match the recipe feed rate for each feeder.

The proprietary controller will control from 1 to 8 feeders simultaneously, providing a capacity range from 1 to 80,000 pounds per hour. Recipe selection, storage and editing is easy - - the operator can enter recipe material rates or blend percentages without calculations. Inventory and usage data can be displayed or sent to a printer.

For more information contact:
Rodney Becker
rodneyb@premierpneumatics.com
Premier Pneumatics, Inc.
606 North Front Street
P. O. Box 17
Salina, Kansas 67402-0017
Phone: (785) 826-9302
e-mail: premier@premierpneumatics.com
web site: http://www.ktronpremier.com/

Related