Graphics Controller complies with OpenGL® ES 2.0 standard.
Press Release Summary: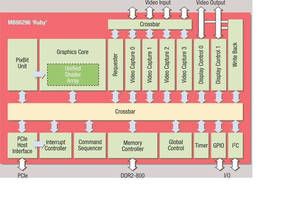 Fujitsu MB86298 Graphics Processor features shader unit with pipeline structure that is configurable to use high-level geometry, color, and lighting algorithms for FSAA image generation. Power consumption is typically less than 2.5 W. Dual-display output unit has video-capture module that interfaces to 4 parallel external devices, and can support displays with up to 1,400 x 1,050 pixels. Up to 512 MB of external DDR2 800 memory can be addressed using 64- or 32-bit interface bus.
---
Original Press Release:

Next-Generation Graphics Controller from Fujitsu Microelectronics Provides 3D Rendering, Enhanced Video Capture, Compliance with OpenGL ES 2.0



The Fujitsu MB86298 Graphics Processor, Designed for High-level Graphics for Automotive, Avionics, Marine, Industrial Systems, to be Featured at Telematics Detroit, June 2-3

SUNNYVALE, Calif., June 2 / / - Fujitsu Microelectronics America, Inc. (FMA) today announced an expansion of its industry-leading family of graphics display controllers (GDCs) for automotive, avionics, marine and industrial applications, introducing the Fujitsu MB86298 "Ruby" GDC, which is compliant with the OpenGL® ES 2.0 standard.

Designed in 90-nanometer technology, the highly integrated MB86298 "Ruby" controller provides the high-performance 3D-rendering functions typically seen on high-end computer graphics for embedded applications. The rendering engine incorporates programmable unified shader architecture to align with the OpenGL ES 2.0 standard, with support for user-specific operations on vertices and fragments. The pipeline structure in the device's integrated shader unit is configurable to use high-level geometry, color and lighting algorithms for full-scene anti-aliased (FSAA) image generation. Power consumption is typically less than 2.5W.

The MB86298 controller provides OpenGL ES 2.0/OpenVG(TM) 1.0 functionality, which is highly suitable for demanding next-generation dashboard systems, head-up displays (HUD), telematics systems, navigation systems, and rear-seat entertainment applications. The GDC will be demonstrated in the Fujitsu Microelectronics booth (#53) at the Telematics Detroit 2009 conference, June 2-3, at the Rock Financial Showplace in Novi, Michigan.

"The new Ruby graphics display controller continues Fujitsu's leadership in this innovative technology," said Dan Landeck, senior manager of strategic marketing, Automotive Business Group at Fujitsu Microelectronics. "We have increased performance, reduced the component count, and provided full compliance with the important OpenGL ES 2.0 standard. This graphics processor is ideal for a wide range of high-level graphic applications including telematics, in-vehicle entertainment, driver assistance and navigation, marine systems, avionics, and industrial equipment such as medical systems and control terminals."

The GDC's integrated video-capture module interfaces to four parallel external devices providing ITU-R BT 601/656, DRGB 888 (up to 1280 pixel horizontal resolution) and SMTPE 296M format data. The capture module also supplies frame-rate conversion, color conversion, upscaling, downscaling and adaptive de-interlacing functions.

With its state-of-the-art host and memory interfaces, the MB86298 also provides all required bandwidth for data throughput in next-generation high-end graphics applications. The host link is a full-duplex PCIe interface that can be connected to a big-endian or little-endian CPU.

The dual-display output unit can be freely programmed to support display panels with resolutions up to 1400 x 1050 pixels (or widescreens up to 1600 x 600 pixels). The display unit provides enhanced functions such as gamma correction and dithering for color adjustment, depending on specific display requirements. The output unit also supports dual-view displays, enabling applications such as in-vehicle head units, with different information visible for the driver and passenger on the same screen.

An integrated memory controller provides fast access to graphics memory. Up to 512MB of external DDR2 800 memory can be addressed using a 64- or 32-bit interface bus. The integrated spread spectrum clock generator (SSCG) unit ensures reduced electromagnetic interference (EMI) using minimal clock modulation.

The built-in JTAG interface, which is a boundary scan test interface, is compliant with the IEEE 1149.1. The MB86298 will be qualified according to automotive-quality-level AECQ100 for an extended temperature range of -40 degrees C to +85 degrees C.

The MB86298 controller comes in a TEBGA543 package, which is thermally enhanced and improves heat-dissipation to the environment compared with a plastic BGA package.

Pricing and Availability

Sample quantities of the MB86298 "Ruby" graphics controller are available now, and pricing is available upon request. A dedicated evaluation board, software drivers for QNX, Linux and Windows and sample programs are also available.

About Fujitsu Microelectronics America, Inc.

Fujitsu Microelectronics America, Inc. (FMA) leads the industry in innovation. FMA provides high-quality, reliable semiconductor products, design and manufacturing services for the wireless, consumer, automotive, and other markets throughout North and South America. For product information, visit the company web site at us.fujitsu.com/micro/graphicdisplay or address e-mail to inquiry@fma.fujitsu.com

All product names mentioned herein are trademarks or registered trademarks of their respective owners.



 Key Specifications of the Fujitsu MB86298 "Ruby" Graphics Display Controller



 System - PCI Express® host interface (1 lane TX/RX) - requester

    and completer functionality, big/little-endian swapping

   - 32- and 64-bit DDR2 SDRAM 800MHz graphics memory interface,

    maximum data rate of 6.4Gbps

   - External interrupt output

   - I(2)C master functionality

   - GPIO: 8 pins with edge-detection interrupts

   - Spread-spectrum clock generation

   - IEEE 1149.1-compliant JTAG interface for boundary scan test



 Graphics - Programmable OpenGL ES 2.0 graphics acceleration

   - Full hardware support of ROP2 and ROP3 raster operations

   - Operations by separate hardware unit (PixBlt unit) with FSAA

    and high-performance copy and blend blit



 Display - Output up to four displays

 Output

   - Dual-view display support

   - Eight layers of overlay per display controller, four alpha

    planes, constant alpha value

   - Dither and gamma correction



 Video - Four video-capture inputs

 Capture - Supported video input resolutions:

 Inputs  ITU-R BT 601/656, DRGB 888 (up to 1280 pixel horizontal

    resolution), and SMTPE 296M (1280x720/60p, 1280x720/59.94p,

    1280x720/50p)

   - Scaling, color conversion, frame rate conversion, adaptive

    de-interlacing

   - Brightness, contrast, saturation control for video data

   - Video texturing



 Technology

   - 90nm CMOS power supply voltage:

    IO: 3.3 +/-0.3V and core: 1.2 +/-0.1V and DDR2: 1.8 +/-0.1V



 Package - TEBGA543 package

   - Extended temperature range of -40°C to +85°C

   - AECQ100 qualification



Source: Fujitsu Microelectronics America, Inc.

CONTACT: Emi Igarashi of Fujitsu Microelectronics America, Inc.,
+1-408-737-5647, eigarash@fma.fujitsu.com

Web Site: http://www.fma.fujitsu.com/

More from Packaging Products & Equipment