Graphic Display Boards feature slim design.
Press Release Summary: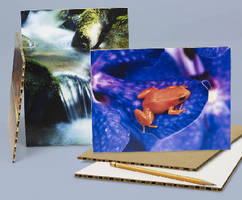 At 3/16 in. thick, Falconboard(TM) SR Source Reduced versions of Falconboard(TM) Print and Falconboard(TM) Mount are suited for bracket-based aisle and shelf retail display signage, which typically require thin profiles. Unlike foam board and corrugated, cell structure is not visible, creating aesthetically appealing look. Made from post- and pre-consumer recycled fibers, products are 100% paper-based and recyclable. Standard sheet sizes are 48 x 96, 48 x 120, 60 x 96, and 60 x 120 in.
---
Original Press Release:

Pregis Hexacomb Intros Slimmer, Source-reduced Alternatives for Falconboard Print, Mount 100% Paper Graphic Display Boards



Deerfield, Ill., - Pregis Hexacomb is introducing slimmer versions of its Falconboard(TM) Print and Falconboard(TM) Mount graphic display boards under the Falconboard SR (source reduced) brand name. The line, already known for its industry-leading 100% paper environmental positioning, has now gone one step further.

At 3/16th-inch thickness, the Falconboard(TM) SR versions of the previously launched Print and Mount products provide the same high-quality performance attributes as its thicker predecessors but use up to 25% less material than ½-inch boards and 10% less material than ¼-inch options.

In addition to a broad variety of print and mounted applications, the line extension is ideal for bracket-based aisle and shelf retail display signage which typically require thinner profiles.

"We have been overwhelmed with the response to the Falconboard line since we launched the first product in mid-2009. The message has been clear. Signage and display users are thirsty for non-petroleum based alternatives which can deliver attractive graphics in addition to desired structural performance attributes. The Falconboard SR line takes that one step further, by keeping all of the pluses while reducing material usage up to 25%," said Jeff Kellar, president, Hexacomb.

In addition to material source reduction, the sourced-reduced Print and Mount options further assist in reducing the carbon footprint because more board can be shipped per truckload.

Falconboard Print is ideally suited for digital and screen printing applications such as signage, point-of-purchase and trade show displays. Falconboard Mount is a superior paper-based rigid support structure for flexographic and rotogravure printed flexible wide-web materials. Mount offers the structural characteristics of Print, but utilizes kraft paper facings to provide a flat and smooth mountable surface. Additionally, it works well with most commercial connective systems such as edge tape, plastic or metal edging and channels.

The structural characteristics (strong, flat and rigid) of the Falconboard line, enable improved performance compared to both foam board and corrugated. Unlike the latter, the cell structure is not visible, creating a more aesthetically-pleasing look. Additionally, its 100% paper construction, made from both post- and pre-consumer recycled fibers, helps support an improved environmentally position.

Falconboard Mount is ideal for higher volume, wide-format applications requiring a rigid substrate with an extremely flat surface. Unlike corrugated backing boards, underlying cell structure (flute) is not visible after lamination. This enables improved visual impact and aesthetics. It also offers superior compression strength, is lightweight, resists bending or warping and is heat-resistant to 300 degrees Fahrenheit. It can also be easily cut or routed to accommodate specialty shapes.

Falconboard's proprietary structure features an engineered paper core and water-based adhesives. Produced chlorofluorocarbon-free, it emits zero volatile organic compounds (VOCs) during manufacturing. The 100% paper-based product is made from renewable resources (up to 40% recycled fiber content) and is recyclable to provide the perfect blend of structural performance and environmental stewardship.

Depending on the lamination, signage and displays made from Falconboard Mount can be included in the retail facilities' paper waste stream at the end of the lifecycle. Most have on site compactors which bale paper-based products for sale to a recycler.

Standard sheet sizes are 48- x 96-inches, 48- x 120-inches, 60- x 96-inches and 60- x 120-inches. Custom sizes also are available.

About Hexacomb:

Pregis Hexacomb is a leading supplier of paper-based protective packaging and serves key industries which value product protection coupled with environmental sustainability. This includes furniture, consumer, automotive, textile, food, building products, energy, glass and industrial. Hexacomb has nine manufacturing plants in North America and three in Europe. For more information about Hexacomb visit www.hexacomb.com.

About Pregis:

Pregis Corporation is a leading global provider of innovative protective, flexible, and foodservice packaging and hospital supply products. The company offers packaging and product solutions for a wide variety of consumer and industrial market segments including food and foodservice, healthcare, agriculture, automotive, furniture, electronics, construction, fulfillment, catalog and military/aerospace. The specialty-packaging leader currently operates 47 facilities in 18 countries around the world. For more information about Pregis, visit www.pregis.com.

More from Materials