Global Positioning Systems (GPS)
GPS Tracking Devices consume zero power.
Press Release Summary: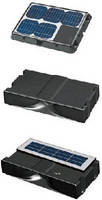 Designed to sit atop trailer and house motion sensors as well as GPS and GSM antenna, solar-powered Model TLU eliminates need to connect to truck's power supply and can operate up to 1 month without sunlight. Model WP100, operating via wind-powered turbine generator, is suited for constantly moving vehicles. Combining turbine charger and solar panel, Model WP300 provides time-stamped reports on status of trailer contents and real-time GPS tracking data. All are self-contained and weatherproof.
---
Original Press Release:

Portman Security's Family of New Green GPS Tracking Devices Harness Solar and Wind Power to Protect and Track Vehicles, Trailers, Mobile Assets



North Andover, MA - Portman Security Systems USA, www.portmansecurity.com a leading manufacturer of GPS tracking devices, announces a new line of self-contained, zero-power-consumption tracking devices for mobile assets. The new devices are the solar-powered TLU, patented wind-powered WP100 and the solar/wind-powered WP 300.

According to Ed Nevins, Portman Security Systems' Senior Director, "Our new line of green devices is designed to sit unobtrusively atop a trailer. Totally weatherproof, these independently powered devices deliver reliable GPS tracking and monitoring, accurately reporting location, temperature changes, tire pressure and door access. The sun and wind do all the work," he said.

The Portman TLU is a solar-powered logistics device combining all the functionality of a GPS tracking unit, eliminating the need to connect to truck's power supply. It houses its own motion sensors and GPS & GSM antenna, capable of operating up to a month without sunlight. The STLU variant can automatically switch over to the Iridium Satellite Network to continue reporting data in remote locations where there is no GSM coverage.

Portman's WP100 is a patented, wind-powered GPS tracking device, operating via an independent wind-powered turbine generator. Perfect for vehicles constantly on the move, this self-contained unit installs easily, charges its own batteries while in motion, and provides the necessary telemetry to track all mobile assets.

"The best of both worlds," continued Mr. Nevins, "is our new WP300, containing both the patented turbine charger and solar panel in one compact, weatherproof package. The unit's indefinite battery life and wide range of sensors provide time-stamped, reliable reports on the status of trailer contents and real-time GPS tracking data."

ABOUT PORTMAN SECURITY SYSTEMS, USA

Headquartered in North Andover, Massachusetts, Portman is the world's largest OEM manufacturer of GPS/satellite/GSM security products. With its twenty-eight year background, Portman has rapidly grown to become one of the world's leading complete solution providers, designing and manufacturing GPS tracking devices catering to every make and model of small automobile, trucks, trailers, plant equipment, and motorcycles as well as pet and personal tracking. Portman's products are used for a variety of applications including facility security, AVL, fleet management, tracking, mobile resource management, location-based services, individual protection, emergency response, covert operations, RFID integration and logistics. Portman works with solutions providers, manufacturers, software companies, and end-users in over 70 countries involved in the automotive, government, energy and green technology, entertainment, produce, retail, telecommunications, healthcare, security, agriculture, transportation, law enforcement and numerous other industries.

The company is headquartered at 510 Turnpike Street North Andover, MA 01845 USA; phone (978) 208-4770; fax (978) 208-4771. Please visit www.portmansecurity.com.

More from Software