GPRS Gateway sends M2M data to cloud.
Press Release Summary: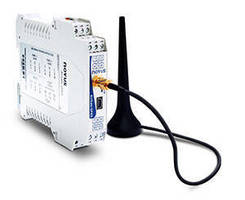 Housed in IP40-rated, DIN rail mount, ABS enclosure, quadband Novus AirGate-GPRS connects to cloud-based gateway through GSM/GPRS interface, enabling remote access to Modbus slaves connected to local interfaces. Two onboard inputs, configurable as analog or digital, support telemetry applications such as cold chain supply for controlling temperatures in refrigerated products. Low/high alarms and communication errors generate alerts that are sent via e-mail or SMS messaging.
---
Original Press Release:
New Novus Airgate GPRS Sends Your M2M Data to the Cloud
CAS DataLoggers Provides Affordable Data Acquisition via Modbus

CHESTERLAND OH — CAS DataLoggers and Novus Automation have just released the latest in M2M (machine-to-machine) communication--the Novus AirGate-GPRS, a gateway designed for remote access to a Modbus network while sending alarm and status notifications by SMS messaging. The device also features two onboard analog or digital inputs for cost-effective telemetry applications such as cold chain supply for controlling temperatures in refrigerated products, 24/7 product tracking from manufacturer to receiver, even for solar farm operation. Bringing data acquisition to a wide audience, CAS DataLoggers offers the quadband AirGate-GPRS for about $650.00.

Modbus Communication:
When configured with a data plan SIM card, access to the Novus Cloud Gateway server is available through the GSM/GPRS network enabling remote access to Modbus slaves. The two local and configurable RS 485 interfaces provide a connection to remote Modbus devices through the cloud gateway. A remote master communicates using Modbus TCP through the Internet, reaching the AirGate through its GPRS connection to the cloud. A second master can be locally connected to a SCADA system using the USB port. One of its RS485 ports can be configured as a slave and connected to a third master, like an HMI, or like a master to start a new Modbus network segment with additional slaves. The other RS485 port will always connect to the main RS485 network segment, containing only slaves. Routing and multiplexing Modbus packets through its four communication interfaces adds innovative functionalities with minimum performance loss, and the AirGate has an RS485 baud rate from 1200 to 115200 bps.

Store, Analyze and Export Data:
The Novus Cloud Gateway provides a new way to store, analyze and export historic data from remote or local processes. Acting as a simple packet router or online data storage server, the Cloud Gateway offers an intuitive web interface that allows users to view recent data, connection status, reports and also system exceptions of all remote telemetry points.

The AirGate GPRS has already been deployed in many different DAQ configurations and applications. For example users can connect this device to a temperature or pressure transmitter to send data and read values/channels remotely over the cloud. Additionally, these dataloggers are very user-friendly with a simplified interface. The device is also fully compatible with the Novus AirGate Modbus Gateway for monitoring and storage, while the USB port allows PC connection as a virtual COM port--for example the device can be connected to a PLC.

Flexible Inputs:
The AirGate GPRS features two inputs configurable either as analog (4-20 mA or 0-10 V) or digital, and also includes an antenna with magnetic base and 3m cable with an option for a cable-less antenna. The gateway's ABS enclosure is rated at IP40 protection and can be mounted to a DIN rail. Using a 10 to 35 Vdc power supply, the AirGate GPRS is also capable of standalone operation. Users also get FREE configuration software.

Worldwide Quad-band GSM Compatibility:
The data logger connects to a cloud-based gateway through its GSM/GPRS interface, enabling remote access to Modbus slaves connected to local interfaces. Authentication to the remote gateway increases data security.

Alarms and Notifications:
Notification alerts can be set for all configured sensors. Low and high alarms and communication errors can generate alerts that will be sent by e-mail or SMS to a user-defined mobile phone number.

View Measurement Groups and Points
Users can view all measurement groups associated with the account and a summary view of all sensor inputs within the measurement group. The interface has customizable icons for sensors, current values and historic data.

Configurable Trend Views
Sensors can be added to a chart for analysis, with the analysis interval being user-configurable.

Exportable and Printable Reports
Report intervals can be configured and can then be exported to .xls and .pdf files for further analysis.

For more information on our Novus data acquisition systems which can be deployed in a wide range of temperature and pressure monitoring applications, or to find the ideal solution for your application-specific needs, contact a CAS Data Logger Applications Specialist at (800) 956-4437 or visit the website at www.DataLoggerInc.com. Contact Information: CAS DataLoggers, Inc. 12628 Chillicothe Road Chesterland, Ohio 44026 (440) 729-2570 (800) 956-4437 sales@dataloggerinc.com www.dataloggerinc.com
More from Cleaning Products & Equipment