Goodhart Sons Inc. Awarded Multiple 2014 Fabrication Projects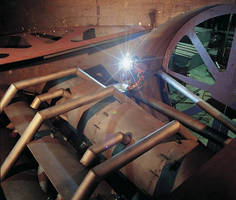 Goodhart Sons, Inc., a 79-year-old ASME code shop, industrial fabricator and installation company serving both domestic and international clientele, has recently secured multi-million dollar fabrication contracts within the power, energy, pollution control and OEM sectors.  The main factor cited by the Project Managers and Engineers for selecting Goodhart Sons Inc. was the combination of cost, industry recognized quality and the capability to meet their project delivery schedules.



These recently awarded projects encompass a broad range of markets which highlights Goodhart Sons Inc. competitiveness across diverse industrial segments.  The recently awarded projects include:

• A stack fabrication with floating liner system contract with a West Coast based emissions control company

• A stack fabrication contract for a North East power project consisting of (4) stacks weighing in excess of 1 million pounds

• A large diameter Condenser Transition Piece, Multiple Waterboxes, and Large Diameter Duct for a Mid-West Heat Transfer OEM

• Large Diameter Duct Work & Structural Steel fabrication for a Mid-West Coke Plant consisting of over 500 feet of 10 foot diameter duct

• Pollution control fabrication for an International EPC company



Fabrication production for these projects will run from Q2 through Q4, 2014.  Although these projects represent significant near-term opportunities for Goodhart Sons Inc., the company still maintains the ability to add additional project work through 2014 and beyond for its 175,000 square foot fabrication facility.







More from Thermal & Heating Equipment