Goodhart Sons Adds Bore Scope Inspection Capabilities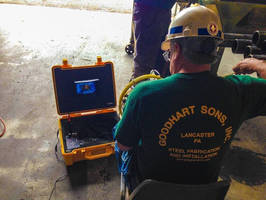 Goodhart Sons Inc., a 79-year-old non-union ASME code shop, industrial fabricator and erector serving both domestic and international clientele, hasrecently purchased a Push Camera to aid their Quality Control Department inspect the inside of pipe walls, bores and other tight areas.



"The use of this bore scope will help us complete tasks in less time and more accurately", says Dave Kriner, Quality Assurance Manager at Goodhart Sons, Inc. "With the recent announcement of a new pipe fabrication facility at our Lancaster, PA headquarters, this just seemed like a logical step for us."



This cost effective portable inspection device is designed to deliver quality video inspection in a wide range of applications including: piping, ductwork and other tough to reach places.



The camera head contains 12 adjustable LED lights and a flexible spring coiled joint to navigate around corners. A Sapphire lens comes standard to resist scratching.



A high resolution chip is designed to capture bright, crisp, color video of the inspection area, and it is integrated into a straight view camera for the operator to view on a 7" LCD color display that is built into the case.



The monitor and controls are built into a waterproof and lightweight plastic case making it easy to transport, and carry the bore scope to various shop locations or to a job site. The video is recorded onto an SD memory card in AVI format and can be viewed on any computer supporting an AVI format.



Goodhart Sons, Inc. is a fully equipped steel fabricator and installer located in Lancaster, PA.with more than 175,000 square feet of production space. They are ASME Section VIII, Division I board certified in possession of their R, S and U stamps as well as an AISC Member.



Goodhart Sons, Inc. also employs millwrights, riggers, welders, pipefitters, electricians and insulators that travel the country and abroad to install the projects that they fabricate as well as many types of OEM equipment and production lines. Goodhart Sons, Inc. has the experience, knowledge and resources to plan and execute complicated shut-downs.



More from Electronic Components & Devices