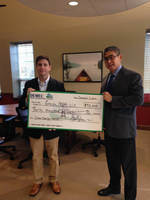 Milford, DE – First State Manufacturing recently received Green Energy funding via their companion company; GrowUSA LLC due to their successful installation and implementation of their Green Energy initiatives.  The initiative included a small scale photovoltaic field installed on the roof of their Milford, Delaware manufacturing facility in 2011.  The solar field takes up about 50% of the total roof space.



"We made the investment four years ago and the solar panels provide more than 100% of our needed energy to operate," said John Gonzales, Chief Financial Officer.  "We have low usage times of the year and we have been able to share what we produce with the City of Milford, thereby decreasing their need to purchase energy for the community.  We've been very pleased by the return on the investment as well as the long term impact for greater Milford that is the result of this green initiative."



First State Manufacturing is an award winning company and is one of the most successful manufacturers of its size in the nation.  Providing quality upholstery and cut and sew services to the U.S. military, municipalities and a wide array of commercial customers, First State Manufacturing has earned its reputation for providing solutions that solve the challenges its customers face, while continuing to grow manufacturing jobs in Sussex county.



To learn more about First State Manufacturing, go to www.FirstStateMfg.com, or contact 302-424-4520.



More from Cleaning Products & Equipment