Glycol Percent Tester has 0-72% concentration range.
Press Release Summary: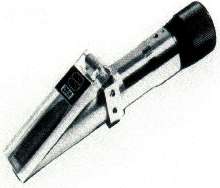 Able to read glycol concentration levels in plants using cold storage and refrigerant systems, refractometer is offered as dual scale model. Scale 1 has 0-44% range, and scale 2 has 44-72% range. Unit has scale division of .2, which allows for accurate readings of glycol or other fluids/solids in solution. Using 1 or 2 drop samples, concentration is read directly from scale. Self-calibrating instrument comes with adjustment screwdriver.
---
Original Press Release:
Glycol Percent Tester (Refractometer) Range 0-72% - for Use with Cold Storage and Refrigerant Systems for the Food Industry

Kernco Instruments Co., Inc. has introduced its new Glycol Percent Tester - with range of 0-72% concentration. Model is designed to read directly the glycol concentration levels in plants using cold storage and refrigerant systems so that proper levels are maintained to insure protection of various food products. By maintaining proper glycol levels the machines function properly to prevent spoilage of products being warehoused.

The glycol tester (refractometer) is a dual scale model. Scale one has a range of 0-44%, scale two has range of 44-72%. Model has a scale division of .2 allowing for extremely accurate readings of glycol or other fluids or solids in solution.

Concentration of glycols or other fluids and soluble solids is read directly from the scale. Only a drop or two of test sample is required for reading. Instrument comes with an adjustment screwdriver which allows the user to move the critical line according to standard used, and makes this unit a self-calibrating instrument.

For additional Information, write to:

Kernco Instruments Co., Inc.

420 Kenazo Avenue

El Paso, TX 79928

Phone: 915-852-3375

Fax: 915-852-4084

E-mail: brkernco@whc.net

Internet: www.kerncoinstr.com

Contact: John P. Kelly

Sales Director


More from Optics & Photonics