Glue Dots International Launches Free Video Trial Program for SD-900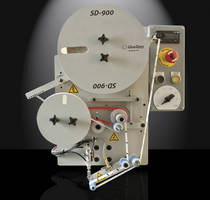 Glue Dots International (GDI), a leading global manufacturer of pressure sensitive adhesive patterns, introduces a free video trial program for the SD-900 adhesive applicator.

The SD-900 is a fully automated, inline adhesive applicator engineered to quickly, cleanly, and easily apply Glue Dots Brand Adhesives. The SD-900 is competitively priced against most hot melt systems. It reduces operating and maintenance costs by eliminating waste and cleaning, as well as increases worker safety by eliminating the risk of burn injuries.

The SD-900 video trial program allows customers to confirm the value of an automated application process without having to invest in the financial risk associated with implementing an automated system.

"This new service provides our customers with a realistic ROI without committing to an upfront investment in the process," said Bruce Church, General Manager at GDI. "Our goal is to provide a practical, efficient solution for our customers and to confirm their capital investment."

The SD-900 video trial program provides every GDI customer with direct access to a dedicated team focused on finding the right adhesive solution. Customer products are extensively tested and documented for performance during the video trial process. The results are then compiled into a comprehensive final report that includes video proof of successful adhesive applications. The video documentation confirms the performance of the SD-900 without financial commitment, resulting in a greater ROI.

Details about the free video trial for the SD-900 can be found at ht.ly/8VaM9.

If you have any questions about the SD-900, or the video trial program, call 1-888-688-7131, to speak with a representative.

About Glue Dots International - www.gluedots.com/adhesives

Glue Dots International, founded in 1995, revolutionized the adhesive industry with its easy-to-use pressure sensitive products. The company holds several patents and continues to lead the industry in the development of new, efficient adhesive products for consumer, industrial and specialty markets. Glue Dots International, headquartered in New Berlin, Wisconsin, has operations in the United States, Europe, and Asia.


More from Adhesives & Sealants