Global Fastener Manufacturer Purchases New AFC-Holcroft Mesh Belt Furnace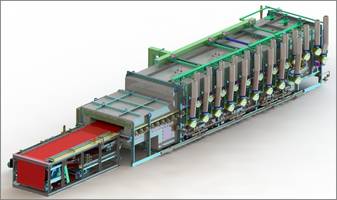 (March, 2019) A Midwestern facility of a US-based leader in the manufacture of safety-critical fasteners and assembly solutions has purchased a new MB48-120 mesh belt furnace from AFC-Holcroft.
The new equipment will replace an older AFC-Holcroft installation. The new mesh belt furnace will integrate with existing companion equipment such as a loading system, pre- and post-wash systems, oil quench and temper furnace.
The new mesh belt furnace will be used in the production of metal fasteners. AFC-Holcroft mesh belt lines can be customized with a variety of options, including oil and salt quenching. These systems also include the latest energy saving technologies to reduce atmosphere and gas consumption.
Delivery and start-up of the new equipment are expected in the first quarter of 2019.
About AFC-Holcroft:
Founded in 1916, AFC-Holcroft, is one of the US market leaders in the production of industrial furnace equipment for ferrous and non-ferrous metals. The company manufactures turn-key heat treating systems for applications including commercial heat treating, bearings, automotive, aerospace, mining, aluminum heat treatment, gear manufacturing, fastener manufacturing, and alternative energy industries.
Member of the Aichelin Group since 2016 and headquartered in Wixom, Michigan, AFC-Holcroft operates its own subsidiaries in China and Switzerland and has a global presence through a network of partners located in Australia, Brasil, India, Mexico, Poland and Spain.
About AICHELIN Holding:
As part of Berndorf AG, AICHELIN Group is a leading provider of heat treatment solutions, such as industrial furnaces, induction hardening plants, industrial gas burners systems as well as automation technology and after-sales services. The AICHELIN headquarters are located in Mödling near Vienna. The company's roots date back to 1868. The long-established brand AICHELIN, as well as AFC-Holcroft, EMA Indutec, SAFED, BOSIO, and Noxmat, make up the group and together employ more than 1,100 people. AICHELIN Group ranges among the world's top 3 heat treatment companies. AICHELIN's subsidiaries in Europe are located in Austria, France, Germany, Slovenia, and Switzerland; the worldwide presence of the company includes subsidiaries and branch offices in China, India, Russia, and the US, as well as a sales network in 22 more countries. www.aichelin.com
For More Information:
J. Ciszewski
+248-624-8191