Global Automotive Supplier Invests in New AFC-Holcroft Heat Treating Equipment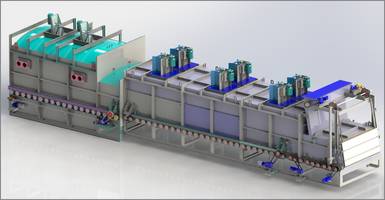 (March, 2017) A leading global automotive supplier of systems and components has purchased a new roller hearth annealing furnace from AFC-Holcroft. The new equipment will be installed in the Southeast region of the United States, where the same plant has been running production using two Holcroft brand roller hearth annealers since the late 1990's. The new roller hearth furnace will be similar to the existing installation in design, but updated with modern controls systems and features.
The roller hearth design offers the customer more flexibility than other types of thermal processing technology such as induction. A roller hearth furnace can produce a larger volume of parts, change recipes easily, provide long cycle times, and offer the flexibility of batch style processing in a continuous type design.
"The customer's team recognized and acknowledged the strength and flexibility of the original roller hearth design for their application" said Ron Graham, Sales Engineer at AFCHolcroft. "They provided vital feedback to us on areas of potential improvement, which allowed us to provide the optimal solution by combining the known functionality of the existing design with identified areas of improvement based upon decades of in-plant experience."
About AFC-Holcroft:
Founded in 1916, AFC-Holcroft, is the US market leader in the production of industrial furnace equipment for ferrous and non-ferrous metals. The company manufactures turn-key heat treating systems for applications including commercial heat treating, bearings, automotive, aerospace, mining, aluminum heat treatment, gear manufacturing, fastener manufacturing, and alternative energy industries.
Headquartered in Wixom, Michigan, AFC-Holcroft operates its own subsidiaries in China and Switzerland and has a global presence through a network of partners located in Australia, Brasil, China, India, Mexico, Poland and Spain.
AFC-Holcroft was recently acquired by AICHELIN Group located in Mödling, Austria. AICHELIN Group - with its manufacturing companies AICHELIN, EMA Indutec, SAFED, BOSIO and Noxmat - is a leading provider of high-quality plants and systems for heat treatment solutions as industrial furnaces, induction hardening plants and industrial gas burner systems. With 1,100 employees globally, it is among the top 3 heat treatment companies worldwide.
For more information, contact [email protected].
For More Information:
J. Ciszewski
+248-624-8191
AFC Holcroft
49630 Pontiac Trail
Wixom, MI 48393