Glass Tapered Inserts suit high-throughput systems.
Press Release Summary: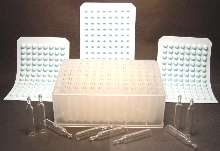 With push-point design that provides sample access down to 10 µL, 0.7 and 1.0 mL Glass Tapered Inserts are available assembled in 96-Square Deep Well Polypropylene Microplates. Inserts and plate can be autoclaved, offer thermal stability and chemical resistance, and can be used with shakers and vortexers. Microplates assembled with 0.7 mL or 1.0 mL inserts can be sealed with respective 96-Square or 96-Round Well Molded PTFE/Silicone or Silicone Only Liners.
---
Original Press Release:
Glass Tapered Inserts in 96-Deep Well Plates for High-Throughput Systems

MOUNT LAUREL, NJ - The Biotech Solutions 0.7mL and 1.0mL Glass Tapered Inserts are available assembled in 96-Square Deep Well Polypropylene Microplates. The inserts have a unique push-point design that provides sample access down to 10uL.

The inserts and plate can be autoclaved and they offer excellent thermal stability and chemical resistance. The snug fit of the glass inserts allows for use with shakers and vortexers. The microplate assembled with the 0.7mL inserts, can be sealed with our 96-Square Well Molded PTFE/Silicone or Silicone Only Liners.

The microplate assembled with the 1.0mL inserts, can be sealed with our 96-Round Well Molded PTFE/Silicone or Silicone Only Liners. The glass tapered inserts and microplate are designed to work in the Waters Alliance HT System and other similar automated systems.

For more information contact Biotech Solutions at: 1-877-651-1768, 1-856-231-0559 or visit our website at www.biotechsolutions.org.

1 CARNATION COURT - SUITE B

MT. LAUREL, NJ 08054 - USA

PHONE: 856-231-0559 or TOLL FREE: 877-651-1768

E-MAIL: ORDERS@BIOTECHSOLUTIONS.ORG
More from Agricultural & Farming Products