Glass Balls suit valves, bearings, and metering devices.
Press Release Summary: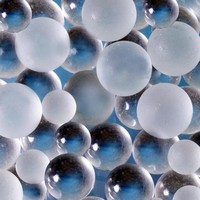 Resistant to corrosion and chemical absorption, Precision Glass Balls may be used in medical, optical, and food processing equipment. Products exhibit dimensional stability and withstand temperatures to 600°F. Supplied plain or colored for identification purposes, balls are made of soda-lime or borosilicate glass and come in sizes from 1/32-1¼ in. Finishing options include matte, ground, or polished. Balls can also be manufactured to meet cleanroom standards.
---
Original Press Release:

High Precision Glass Balls Ideal for use in Valves, Bearings, and Metering Devices



ROCKY HILL, CT. Hartford Technologies offers Precision Glass Balls with superior corrosion and chemical absorption resistance making them ideal for applications in medical, optical, and food processing equipment.

Precision balls made from glass are approximately one third the weight of those made from stainless steel and can usually be purchased at a lower cost.

In medical applications such as intravenous administration products, resistance to chemical or biological elements is critical and since the metering balls are not subjected to high loads, the use of lower cost glass balls such as those made from soda-lime is ideal.

While stainless steels such as type 316 are highly corrosion resistant, they can still be affected by some chemicals. Bearings containing glass balls are commonly used in pool and spa pumps and accessories due to their high resistance to chlorine.

Glass balls can be supplied in various colors for identification purposes. Black glass balls are commonly found in instrumentation applications such as flow meters and aircraft turn coordinator gages.

Glass balls are dimensionally stable and can withstand temperatures up to 600 degrees F. Hartford Technologies' Precision Glass Balls are available in sizes ranging from 1/32" (0.8mm) through 1-1/4" (31.75mm), in a matte, ground or polished finish, plain or colored, in soda-lime or borosilicate glass. Balls can be manufactured to meet a 100,000/10,000 clean room standard. To ensure the highest quality, a unique high-speed visual inspection system 100% inspects the diameter, roundness, and purity of each ball.

Hartford Technologies develops, manufactures, and delivers precision balls, bearings, modular bearing systems and engineered gear drive systems for automotive, aerospace, medical, consumer, agriculture and other industries. Headquartered in Rocky Hill, CT., Hartford Technologies offers complete manufacturing, R&D, metallurgical and testing capabilities to efficiently meet its customers' needs for advanced designs. Hartford Technologies is a QS 9000 and ISO 9002-certified company and a Tier I and Tier II automotive supplier. For more information on the company, log onto www.hartfordtechnologies.com

More from Software