GigE-Based Vision Appliance suits multi-camera inspection tasks.
Press Release Summary: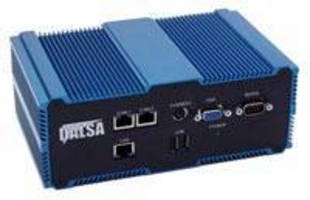 Compatible with DALSA Genie and Spyder3 cameras, GEVA (GigE Vision Appliance) offers expandable platform for various industrial inspection tasks. GigE camera ports are compatible with mono/color, area, and line scan GigE cameras, which can be mixed according to application demand. Also, camera expansion is accommodated via network technologies. Multi-core processor provides power to handle demanding applications, while external interfaces facilitate system integration.
---
Original Press Release:

DALSA Launches New Higher Performance GigE-Based Vision Appliances



DALSA's new GEVA platform offers excellent cost savings for multi-camera vision applications, such as final inspection of large assemblies. The high bandwidth GigE camera ports are compatible with a wide range of mono or color, area and line scan GigE cameras.

NEW YORK - Automation Technology Expo East - Booth # 2741 - DALSA Corporation [TSX: DSA], a global leader in machine vision technology, today announced a new Gigabit Ethernet (GigE)-ready Vision Appliance called GEVA, which stands for GigE Vision Appliance. Compatible with the full range of DALSA Genie and Spyder3 cameras, GEVA offers a cost-effective and expandable performance platform for a multitude of industrial inspection tasks. DALSA will exhibit its full range of Vision Appliances and smart cameras at Automation Technology Expo East (ATX) in New York City on June 8 - 10, 2010.

The GEVA platform offers excellent cost savings for multi-camera vision applications, such as final inspection of large assemblies. The high bandwidth GigE camera ports are compatible with a wide range of mono or color, area and line scan GigE cameras, which can be mixed to suit the application need. Camera expansion is easily accommodated using commercially available network technologies, allowing large configurations to be realized with much lower system cost. At the heart of GEVA is a powerful multi-core processor, equipped with high-speed memory resources to tackle the most demanding applications.

"Our new GEVA platform delivers excellent processing performance and significantly reduces system costs for multiple camera installations," says Steve Geraghty, Director of DALSA's Industrial Products. "GEVA hardware flexibility, combined with DALSA's iNspect and Sherlock software tools, comprise a very powerful vision solution that can be applied to a great number of applications."

GEVA provides a number of external interfaces for system integration. It includes dedicated display and USB ports for setup and run-time control, a third Gigabit Ethernet port and a serial port for factory communication, dedicated trigger inputs for inspection timing, dedicated strobe outputs for lighting control, and opto-isolated I/O for associated equipment interfacing.

Vision solutions on GEVA are setup using DALSA's iNspect or Sherlock application software. The iNspect software is easy to use and requires little or no prior vision experience, while the Sherlock software offers greater flexibility to tackle more challenging inspection tasks. Both packages offer a full complement of tools, together with interfacing and control options for both users and equipment. For performance migration, applications built on other DALSA equipment with the same camera setup will also run on GEVA. Both software packages offer a wide selection of tools and capabilities for applications requiring positioning, identification, verification, measurement, and flaw detection. For machine builders with unique needs, GEVA is available complete with camera drivers for integration with third party software.

For more information about GEVA, visit the Vision Appliances section of the company's web site. For a downloadable image of GEVA, please visit our online media kit.

About DALSA Machine Vision Products and Services
For more than 25 years DALSA has led the design, manufacture and deployment of digital imaging components for the machine vision OEM market, and now also offers end-user machine vision solutions for factory floor deployment. DALSA image sensors, cameras, smart cameras, frame grabbers, software, and Vision Appliances are used in thousands of automated optical inspection (AOI) systems around the world and across multiple industries including semiconductor, solar cell, flat panel display, electronics, automotive, medical, packaging and general manufacturing.
www.dalsa.com/mv

About DALSA Corporation
DALSA (TSX: DSA) is an international leader in high performance digital imaging and semiconductors with approximately 1000 employees worldwide, headquartered in Waterloo, Ontario, Canada. Established in 1980, the company designs, develops, manufactures and markets digital imaging products and solutions, in addition to providing semiconductor products and services.

www.dalsa.com


More from Fluid & Gas Flow Equipment