GF Machining Solutions to Spotlight Advanced Automotive Solutions at TECMA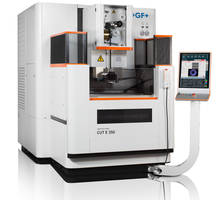 LINCOLNSHIRE, Ill., December 8, 2016 – GF Machining Solutions will showcase several milling and EDM systems designed for high performance and productivity in automotive machining applications in the Proveedora Metalmecánica stand during TECMA being held 7010 March 2017 in Mexico City. Visitors to ProMetal stand 600 will get to experience the leading machine tool builder's high performance CUT E 350 wire EDM, MIKRON HEM 500U 5-axis machining center as well as the AgieCharmilles FORM 20 – the industry's most compact die-sinking EDM.
CUT E 350
At the show, GF Machining Solutions will showcase the CUT E 350, the first machine in its new CUT E Series of high performance and high productivity wire EDMs. The CUT E Series incorporates a broad range of technologies to help manufacturers increase their flexibility and accelerate their time to market.
The CUT E Series incorporates a new, large-touchscreen human-machine interface (HMI) that is intuitive in operation and includes onboard Intelligent Collision Protection, built-in machining strategies and flexible job management. Information about geometries, machining processes and command programs is processed in a single file. This allows jobs to be transferred among different machines in the CUT E Series, with the machines automatically managing all needed modifications. Additionally, more than 10 automated measurement cycles are available to assist with workpiece preparation and the onboard AC CAM Easy allows an operator to prepare an ISO file and postprocess it into a job during machining.
The CUT E Series features the modern Intelligent Power Generator (IPG) to further improve cutting speed, precision and surface quality. The machine can use dedicated wire for decreased part cost and increased throughput, and the POWER-EXPERT module automatically determines the optimal power to send through the wire, which is especially beneficial in stepped parts. The Corner Strategy module automatically adjusts parameters during changes in direction to produce sharp angels and small radii. These features combine to reduce cutting times by up to 18 percent as compared to standard machines.
MIKRON HEM 500U 5-Axis Machining Center
Also at the show, ideal for cutting parts from aluminum alloys and steel, the compact MIKRON HEM 500U high-efficiency machining center from GF Machining Solutions features a special rotary tilting table that provides accurate, highly affordable 5-sided machining of components in single setups.
The machine features a 12,000-rpm ISO-B40 spindle and 30-tool magazine that provides a two-second chip-to-chip time for high-speed continuous milling operations and increased spindle uptime. Additionally, a 20,000-rpm spindle with HSK tooling and 60-tool changer are available.
The machine's trunnion table measures 500 mm in diameter and accommodates workpieces weighing up to 200 kg. It tilts -65/+110 degrees in the B-axis and rotates 360 degrees in C for 3 + 2 machining as well as 5-side positioning. Axis travels on the HEM 500U measure 500 mm in X, 450 mm in Y and 399 mm in Z, while a distance of 150 mm between the machine spindle nose and rotary table surface allows for ample maneuverability around workpieces.
The robust HEM 500U has a C-frame structure that supports a cross-sledge for the transversal X- and Y- movements. All three linear axes are located on a sturdy block that houses the B-axis. The vertical Z-movement, which contains the inline spindle, mounts to the rigid Y-axis column.
AgieCharmilles FORM 20 Die-Sinking EDM
As the industry's most compact die-sinking EDM and one of the most cost efficient for general mold and die applications, the AgieCharmilles FORM 20 from GF Machining Solutions brings a uniform surface finish quality to part sizes up to 800 mm wide, 551 mm deep and 264 mm high.
The FORM 20 also employs one the most modern generators in the industry. Through its Intelligent Power Generator, the machine provides exceptional performance using less power. It requires just 3.7 kW/h at full power, and with every machine pulse, the 70- amp generator continuously optimizes the EDM process and dramatically reduces electrode wear.
Furthermore, the FORM 20 features the company's recently developed AC Form HMI (human machine interface), which many consider to be the most user friendly, easiest to learn and most flexible control developed for a die-sinking EDM.
About GF Machining Solutions
GF Machining Solutions is the world's leading provider of machines, automation solutions and services to the tool and mold making industry and to manufacturers of precision components. The products range from electric discharge machines, highspeed and high-performance milling machines, including clamping and palletization systems, and 3D laser surface texturing machines, to services, spare parts and expendable parts, consumables and automation solutions. GF Machining Solutions is a globally acting division of the Georg Fischer Group (Switzerland) and maintains a presence on 50 sites worldwide within its own organization. Its 3,008 employees generated sales of CHF 905 million in 2014. More information can be found at www.gfms.com/us.
MEDIA CONTACTS:
Karl Kleppek
Director of Business Development
GF Machining Solutions
847-913-5300
Chuck Bates
Director of Public Relations
dgs Marketing Engineers®
317.813.2230
More from Mechanical Power Transmission