German Car Manufacturer to Source Global Supply of Industrial PCs and Control Panels from Beckhoff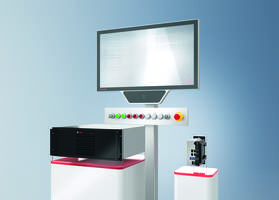 Worldwide Industrial PC partnership secured through 2030
VERL, Germany, November 18, 2019 – Beckhoff Automation, based in Verl, Germany, will supply the BMW Group with Industrial PC (IPC) technology for use in car manufacturing through 2030. According to the terms of the recently signed agreement, Beckhoff will supply production facilities worldwide.
This means that Beckhoff IPC technology will become a global standard for the BMW Group. The Industrial PCs and multi-touch Control Panels will be used – both in new automotive manufacturing facilities and for retrofits – for machine connectivity, access control, data acquisition, visualization and other PC-based tasks. All product categories from the wide Industrial PC portfolio offered by Beckhoff will be used: IP65-rated CP32xx Panel PCs, ultra-compact C6030 IPCs, C5240 19-inch slide-in IPCs and CP29xx multi-touch built-in Control Panels.
Standard Beckhoff products will be used that have been adapted to some extent to ensure optimum retrofitting in existing plants and to include customer-specific key extensions. The comprehensive Beckhoff product portfolio offers the BMW Group the ability to use the latest Intel® Core™ i processor series in a wide range of IPC form factors. On account of the rapid innovation cycles and interoperability within the portfolio, upcoming processor generations will be simple to integrate in the future as well.
The bundling of all product development steps at Beckhoff, from IPC motherboard and BIOS development to mechanical adaptations, enables optimal answers to customer-specific requirements. In combination with full control over the added-value chain based on in-house assembly and production in Verl, Beckhoff offers the ideal infrastructure for a long-term partnership. In addition, the globally available services provided by Beckhoff ensure optimum support of customers' manufacturing facilities distributed all over the world.
Beckhoff Automation is a provider of advanced and open automation solutions based upon proven technologies for customers to implement high-performance control systems faster and at a lower overall cost than traditional PLC and motion control systems. Beckhoff's "New Automation Technology" product range includes PC-based control, industrial PCs, automation controllers, operator interfaces, I/O, servo drives and motors. With representation in more than 75 countries, Beckhoff is well-positioned to provide global sales and service to its customers. Beckhoff sales and service are handled directly, with no intermediaries involved for exceptional customer service and consultation.
Send questions regarding "Beckhoff-BMW Group partnership" to:
Beckhoff Automation LLC
13130 Dakota Ave
Savage, MN 55378
Toll-free: 1-877-TwinCAT
Local: 952-890-0000
Fax: 952-890-2888
Email: [email protected]
www.beckhoffautomation.com
Twitter: @BeckhoffUSA
Media Contact:
Shane Novacek
Beckhoff Automation
Phone: 952-808-6515
[email protected]