German and South Korean Leaders Review ABB Renewable-Energy Capabilities at Hannover Messe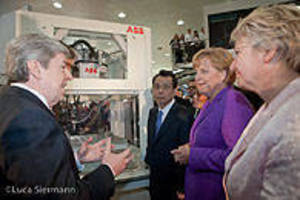 Zurich, Switzerland, April 21, 2009 --- German Chancellor Angela Merkel and South Korean Prime Minister Han Seung-soo visited ABB's stand at a major trade fair in Hanover, Germany on April 20, where they reviewed technologies that maximize the output from renewable-energy plants and integrate their production into the grid.

The leaders were also introduced to ABB's FlexPicker, a lightweight robot widely used in the food and beverage industry to raise productivity by improving the speed and hygiene of packaging operations.

Merkel and Han were met at the stand on the opening day of the Hannover Messe trade fair by ABB Chairman Hubertus von Grünberg and Peter Smits, head of ABB in Germany and manager of the Central Europe region. The German Chancellor was given a similar tour last year.

"The fact that the Chancellor has visited ABB's stand in Hanover for the second year running indicates that our focus on energy efficiency and lowering environmental impact is the right one," Smits said.

Hannover Messe is one of the world's largest trade fairs and focuses on power and automation technology, ABB's two core businesses. ABB's booth in Hall 11 covers 1,750 square meters and marks the company's first trade-fair appearance under the new visual identity created following a rebranding exercise.

ABB's booth was also visited by another prominent German politician, Christian Wulff, premier of the state of Lower Saxony. Hans-Georg Krabbe, of ABB's management team in Germany, explained how power and automation technologies will work together in the power networks and buildings of the future.

Wulff also learned how the first commercial offshore wind farm in the North Sea is being connected to the grid some 200 kilometers away by ABB's high-voltage direct current (HVDC) technology. The technology provides an environmentally friendly solution to deliver electricity to the grid, as the power link will run underwater and underground along the entire route.

ABB specialists Joachim Schneider and Jochen Kreusel are participating in panel discussions on April 21 organized by the Association of the German Electrical and Electronics Industry on the theme of "Life needs Power."

ABB (www.abb.com) is a leader in power and automation technologies that enable utility and industry customers to improve their performance while lowering environmental impact. The ABB Group of companies operates in around 100 countries and employs more than 120,000 people.

Related