Impeller / Propeller / Turbine - Agitators / Mixers
Gericke to Unveil High-Speed, Compact Mixer at Powder Show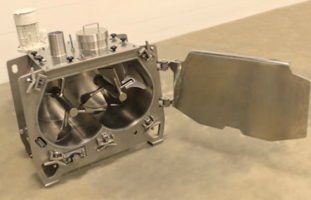 Double Shaft Multiflux® Mixer Achieves High Throughputs in Small Volumes
Somerset, NJ: At Powder Show booth #1026 from August 24-26, 2021 in Rosemont, Ill,. process equipment manufacturer Gericke USA, Somerset, NJ ( www.gerickegroup.com), plans to unveil the Multiflux® GMS 140 compact mixer. Applying the company's proprietary double rotor design proven in its mixers as large 4000L, the 100L batch mixer was developed to quickly achieve a targeted, uniform distribution of multiple liquid and powdered materials in small batch volumes on a tight footprint. The mixing system directs the materials into a fluidized zone that creates a fast and intensive yet gentle exchange of materials for a homogeneous mixture even when mixing materials in small quantities below 0.01 percent. Offering fast cycle times of 30 seconds or less, the Multiflux GMS 140 mixer delivers higher overall throughput rates than many mixers running much larger batch volumes.
Currently in use for mixing fine chemicals, pharmaceuticals, foods, cosmetics, and other fragile and/or high value products in sanitary environments, the Multiflux GMS 140 includes stainless steel construction, continuously welded seams and a choice of surface finishes to prevent contamination and meet FDA and GMP requirements. A full-size door and cantilevered drive invite full access to the mixing rotors, mixing chamber, and entire interior for complete cleaning.
For more information or to schedule a demonstration, contact Gericke USA, Inc., 14 Worlds Fair Dr. Suite C, Somerset, NJ 08873-1364; 855-888-0088; sales.us@gerickegroup.com; or see www.GerickeGroup.com.
Media Contact:
Rene Meira Medina at 855-888-0088 x 805 or
rene.medina@gerickegroup.com
More from Packaging Products & Equipment